Middle East Conflict Comes To New York Subway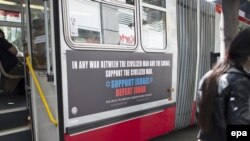 NEW YORK -- The Middle East conflict has broken out into a war of words, and the Big Apple is set to be the next battlefield.
Commuters in New York have gotten their first look at a controversial ad campaign that depicts Muslim radicals as "savages."
"In any war between the civilized man and the savage, support the civilized man; Support Israel. Defeat Jihad," the ads read.
The advertising campaign was orchestrated by the American Freedom Defense Initiative (AFDI), classified as an anti-Muslim hate group by the Southern Poverty Law Center and the Anti-Defamation League.
The provocative ads, which recently made their debut in San Francisco buses have been allowed in New York by way of a federal court ruling that cites freedom of speech.
A similar legal decision was pending on whether they would appear in the U.S. capital, potentially putting the White House in a difficult situation as it tries to tamper down protests over an anti-Islam film produced in the United States.
Violence over the trailer for "Innocence of Muslims," which denigrates the Prophet Muhammad, has resulted in numerous deaths and prompted the Obama administration to go into damage-control mode, including
an ad campaign shown on Pakistani television
ahead of protests called for September 21.
War Of Words
New York's Metropolitan Transportation Authority (MTA) initially rejected AFDI's request to run the advertisements but was overruled when the case went to federal district court. According to "The New York Times," the MTA argued against allowing the ads because they were "demeaning."
After the ruling, the MTA announced that commuters would soon see the ads in 10 subway stations.
"Our hands are tied," the MTA said in a statement issued on September 18. "The court found the MTA's regulations on noncommercial ads violated the First Amendment. The MTA board may consider revising those regulations at its meeting next week in executive session."
Pamela Geller, the executive director of AFDI, told RFE/RL that the ads were a tit-for-tat response to a campaign by a pro-Palestinian rights coalition that has been running on public transportation nationally since 2010, including in New York, which has the largest Jewish community outside of Israel.
The pro-Palestine ads display four maps of shrinking Palestinian territory in Israel. They bear the message: "End U.S. military aid to Israel."
Fomenting Hate?
Cecilie Surasky is a spokeswoman for the California-based nongovernmental organization Jewish Voice for Peace, which was part of the pro-Palestine ad coalition.
Surasky's group was not calling for the "Support Israel, defeat Jihad" ads to be removed, but made clear that she believed Geller's aim was "to foment hate."
"Her ads -- while they are protected by First Amendment rights at this point -- need to be understood in the context of violent attacks that have happened on Muslims, and Arabs, and Sikhs here in the United States," Surasky said.
Surasky praised the response by San Francisco's transportation authority: each ad was printed with a disclaimer, all income from AFDI was donated to human rights groups, and the authority organized meetings to promote religious and racial tolerance.
Washington's transportation authority, meanwhile, announced that it had "deferred" the ad out of a "concern for public safety, given current world events." That prompted Geller to file suit on September 20 in an attempt to overturn the decision.
Geller said any potential reaction to the campaign was not her responsibility.
"Islamic supremacists and their allies in the mainstream media are trying to get us to accept the idea that we are responsible if Muslims riot and kill and blame what we say," she said in an e-mail to RFE/RL. "This is a war on freedom. I refuse to sacrifice my freedom so as not to offend savages."