BELGRADE -- Serbia's parliament has approved a reshuffled cabinet in which the new health minister is a former confidant and family doctor of accused Bosnian Serb war criminal Ratko Mladic, RFE/RL's Balkan Service reports.
The fugitive Mladic's ability to evade capture has vexed the international community, and the elevation to a cabinet-level position of a man who is rumored to have helped him escape justice could affect Belgrade's relations with the West.
Incoming Health Minister Zoran Stankovic, a pathologist, is a former Serbian and Yugoslav defense minister and head of the military's medical academy. He is a retired general.
Stankovic was proposed by coalition member G17 Plus party to replace Tomislav Milosavljevic, who resigned amid corruption allegations.
After a daylong session on March 14, 129 deputies in the 250-seat chamber voted in favor of all 21 members of the cabinet of incumbent Prime Minister Mirko Cvetkovic, who has also taken the role of finance minister. Nineteen deputies voted against the cabinet, while the others abstained or were absent.
The opposition claimed during the sometimes heated discussion that the changes in the ruling coalition, led by the Democratic Party of President Boris Tadic, are cosmetic in the face of political and economic situations facing the country.
No deputy spoke against the appointment of Stankovic.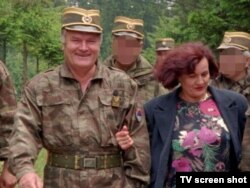 Screen grab shows Bosnian Serb wartime military commander General Ratko Mladic with his wife, Bosiljka, with an FTV journalist in 2005.
As chief pathologist of the former Yugoslav army that backed the Bosnian Serb army, Stankovic was often seen in Mladic's company during Bosnia-Herzegovina's 1992-95 war.
Stankovic, 56, also carried out the autopsy of Mladic's daughter after she committed suicide in 1994.
He was appointed to head the military medical academy in 2002, and some UN war crimes investigators suspected that he helped hide Mladic at the academy.
"The prosecution clearly presented evidence that Mladic visited the academy several times while Stankovic worked there and was its head," said Florence Hartmann, a former spokeswoman for the prosecutor's office of the UN International Criminal Tribunal for the Former Yugoslavia (ICTFY) at The Hague.
However, after being appointed defense minister of Serbia and Montenegro in 2005, Stankovic revealed the names of 50 officers who helped Mladic stay at large.
After Serbia and Montenegro went their separate ways in 2006, he was appointed Serbian defense minister and many analysts believed his main task was to help Mladic evade capture.
The ICTFY has recognized Mladic as the top military general with command responsibility for the massacre at Srebrenica and the siege of Sarajevo that occurred between 1992-95, in which thousands of Bosnian Muslims and others were killed.