Moldova Protests Call For Sweeping Reforms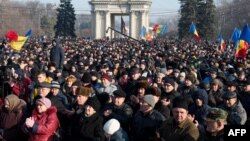 Thousands of protesters took to the streets of Moldova's capital for a second-straight day on January 21, calling for sweeping reforms amid widespread anger against what is perceived as a profoundly corrupt political elite.
The protests have grown despite parliament's approval of a new pro-European government on January 20. The latest rallies took place as new Prime Minister Pavel Filip, a member of the ruling Democrat Party, held his first cabinet meeting.
As night fell on January 21, demonstrators gathered in large numbers in central Chisinau, demanding snap elections and a referendum to change the constitution.
They want the constitution to be amended to provide for direct presidential elections, the reduction of the number of lawmakers from 101 to 71, and the scrapping of parliamentary immunity for lawmakers found guilty of crimes.
Earlier in the day, the movement attracted some 7,000 demonstrators to the center of the capital, most venting their anger at controversial oligarch Vlad Plahotniuc, whom they accuse of controlling the mass-media and manipulating the political elite.
Billionaire Plahotniuc, a former legislator with close ties with the ruling Democratic Party, has been the main target of public ire since a massive banking fraud scandal shook Moldova -- one of Europe's poorest countries -- and triggered the current crisis.
Some $1 billion -- one-eighth of the country's gross domestic product -- disappeared last year from Moldova's banking system, prompting the fall of the government in October.
"One two, one two, we want our billion back from you!" was among the slogans chanted by protesters on January 21.
The main three protest leaders are Igor Dodon and Renato Usatii -- the heads of the pro-Russian Socialist Party and Partidul Nostru (Our Party), respectively -- and Andrei Nastase, the chief of the pro-European Dignity and Truth (DA) party.
The three leaders also held talks with parliament speaker Andrian Candu at the president's residence on January 21. It was not clear whether President Nicoale Timofti attended.
The three gave Candu until 1 p.m. on January 22 to rescind the January 20 parliamentary vote that approved the new, pro-European government.
A large protest rally was called for 10 a.m. on January 22.
According to opinion polls, snap elections could be won by Dodon's and Usatii's pro-Russian parties.
They want to renegotiate Moldova's Association Agreement with the EU and develop stronger ties with Moscow, which bitterly opposed the signing of the agreement in 2014.
WATCH: Former Acting President MIhai Ghimpu Assaulted In Protests
Meanwhile, neighboring Romania, Russia, and the European Union appealed for dialogue and restraint after protesters broke into the parliament building and clashed with riot police after the January 20 vote.
At least 15 people were injured in the scuffles, including nine police officers. Former acting President Mihai Ghimpu was also assaulted by protesters.

"The European Union calls for calm and restraint from all sides," EU foreign policy chief Federica Mogherini said in a statement. "We encourage all stakeholders in the country to engage in a dialogue and find, together, a way forward for the Republic of Moldova."
Romanian President Klaus Iohannis urged Moldova's government to undertake reforms.
On January 20, 57 of the 101 deputies voted in favor of Filip's cabinet in an attempt to bring a three-month-old political crisis to an end.
Several opposition lawmakers briefly interrupted the proceedings, displaying banners demanding "early elections," and blew vuvuzelas -- plastic horns that were popular with the public at the 2010 World Cup in South Africa.
Timofti on January 15 nominated Filip to be the country's prime minister, after two previous nominees failed to gain the office.
The first was Plahotniuc -- whose candidacy, although rejected by Timofti -- sparked protests that grew over the last week.
The second, presidential office staffer Ion Paduraru, withdrew his name shortly after he was nominated by Timofti.
Media controlled by oligarch Plahotniuc last week broadcast reports that pro-Moscow opposition leaders and Russian security forces were planning a coup in Moldova.
But Usatii, who is also mayor of Balti -- Moldova's second-largest city -- denied the reports, labeling them as "nonsense."
With reporting by RFE/RL's Moldovan Service correspondents in Chisinau