An unexpected new fault line has opened up on Moldova's divided political landscape and the country's tiny Muslim community is finding itself caught in the middle.
The controversy began last month when the Justice Ministry officially registered the Islamic League, an NGO representing Moldova's Muslims. The group had been seeking government recognition since 2008.
Ismail Abdel Wahab is a Jordanian-born Muslim living in the capital, Chisinau. He says the Western-leaning government's move is a welcome change in his community.
"We practiced Islam before they registered us, but it was a strange feeling to pray without the approval of the state," Wahab says. "But now we are registered and we can gather together and hold our prayers. We can celebrate together freely. We can feel as if we have all the rights of any Moldovan citizen without outside interference."
Representatives of the Orthodox Church were outraged at the government's decision. The head of the church, Metropolitan Vladimir, called the move "a humiliation" for the country's Christian majority, while other church officials said the Muslim association would "cause trouble" in Moldova.
The leader of the Communist Party, former President Vladimir Voronin, pointed out that Moldova resisted the construction of mosques when it was part of the Ottoman Empire and must continue to do so today.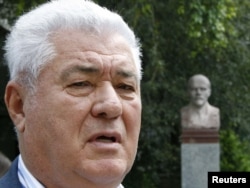 Vladimir Voronin's Communists remain Moldova's biggest party, but without a majority in parliament.
"To register [this group] two weeks before Easter, which is our biggest Orthodox holiday, to register a faith that is the exact opposite of our own Orthodox religion -- this is more than strange," Voronin said. "I don't have words to describe it."
Islamic League head Segiu Sochirca has said he is disappointed with the reaction. He says that the country's Muslims have faced harassment and discrimination for many years.
"Every time we gathered for Friday Prayers, there were police officers at the entrance to our cultural center. They wanted to know exactly who went in and who went out," he tells RFE/RL's Moldovan Service.
"They compiled lists that made no sense to us and handed them over to the intelligence service. I was personally charged by prosecutors with practicing a religion that is banned in Moldova."
Conservatives vs. Liberals
The church has its reason for opposing registering Muslim groups, says Peter Pruteanu, a professor at the Orthodox Theological Academy in Chisinau. "Our first concern is that the only way one can leave the Islamic faith is through death. This is not official, but in practice those who abandon the Islamic faith are killed," he says.
"The Arab states have a well-prepared agenda that is either secret or is simply ignored by us because we are naive," Pruteanu adds. "Don't think the sending of Muslim students to Moldova is accidental. It is easy to see that the first thing they do here is marry local, Christian women, who are then forced to convert to Islam."
Former Justice Minister Alexandru Tanase, who approved the Islamic League's application and who has since stepped down to take a seat on the Constitutional Court, says there is no justification for denying recognition to Muslims.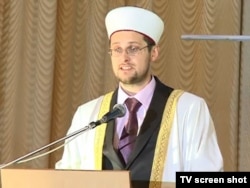 Islamic League leader Sergiu Sochirca says that the country's Muslims have faced harassment and discrimination for many years.
"Islam is not a sect. It is one of the world's three major religions. There is no country in the world that does not recognize the rights of Muslims," Tanase says. "Our own constitution guarantees freedom of religion to everybody. And the people who applied for registration by the Justice Ministry have fulfilled all the legal requirements."
Because of past repression, even the size of Moldova's Muslim community is not known. There are some 2,000 officially registered Muslims among the country's approximately 3.4 million people. But Islamic League head Sochirca says the real figure is closer to 17,000.
"When my wife and I applied for new passports and wanted to write 'Muslim' in the 'religion' space, we saw that it had already been filled in as 'Christian.' I told the police officers we were Muslim, and they ignored me," Sochirca said. "They said they can't write in 'Muslim,' that they register everyone as Christian, and that's all there is to it."
Sharp Political Divide
Moldova's political landscape has been nearly evenly divided between conservative Communists and a coalition of liberal, Western-leaning parties for years now. Election after election since 2009 has left the two groups nearly evenly represented in parliament and unable to elect a president.
A crucial round of contentious local elections is scheduled for June, and conservatives are jumping on issues such as this in an effort to consolidate their base. They likewise have stalled an effort by the ruling liberal coalition to adopt a Western-style antidiscrimination law because it would bar discrimination on the basis of sexual orientation.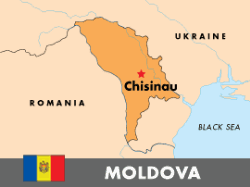 For now, Ismail Wahab is pleased that the government has finally recognized the Islamic League and that Muslims in Chisinau can worship freely. Someday, he dreams, they might even be able to build a mosque.
"Now we have a prayer room and for us this is our mosque. As for building a mosque in accordance with Islamic norms, with a minaret and all, maybe it is not the right time now, not now," Wahab says.
"I think that will be for Muslims who are ethnically Moldovan to decide. Maybe in the future. That is a matter for the future."
with contributions from RFE/RL's Moldova Service and RFE/RL correspondent Robert Coalson