The prime minister of the Balkan state of Montenegro, Milo Djukanovic, has announced his resignation.
He is stepping down after a colorful career spanning the bloody breakup of the Yugoslav federation and the successful effort to establish Montenegrin independence from Belgrade.
His reference to "external pressure" is apparently an allusion to rumors that the European Union had demanded that he step down in exchange for granting Montenegro formal status as a candidate for EU membership last week.
The alleged grounds for Brussels' demand were said to be Dukanovic's purported links to organized crime.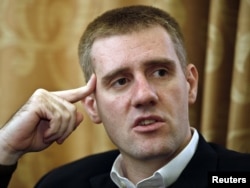 Igor Luksic
At a news conference on December 21, Djukanovic said he is nominating the present finance minister, Igor Luksic, to replace him as prime minister. But he said his ruling Democratic Party of Socialists will have to make the final decision on that. He said he will be remaining as party head.
Djukanovic began his involvement is politics as a young man in the communist youth movement and rose quickly to become a senior local party official. He was a leading actor in the ousting of Montenegro's communist old guard in 1989 and their replacement by figures loyal to then Serbian President Slobodan Milosevic.
After Montenegro's free elections of 1990, Djukanovic became prime minister for the first time, at the age of 29 -- making him the youngest prime minister in Europe.
During his next seven years as premier, his relations began to sour with Milosevic, the Serbian populist strongman who is blamed for inflaming the violence during the disintegration of Yugoslavia.
But Djukanovic remained in favor of Montenegro forming a union with the much larger Serbia as rump Yugoslavia.
He was elected president of Montenegro in 1998 and served until 2002, during which time Milosevic had fallen from power in Belgrade.
During his term as president, he also began to espouse independence for Montenegro, free of Serbia, a cause he pursued until that aim was finally achieved in 2006.
Meanwhile, he had given up the presidency to again become prime minister in 2002.
He stepped down from the premiership in 2006, saying he was tired of politics and wanted to try his hand at business.
Nevertheless,
he took up that office again in 2008
at the request of the president and served until today.
His latest term has been characterized by Montenegro's progress towards eventual membership of the European Union and the NATO alliance. This culminated in Montenegro being granted the status of official candidate for EU membership on December 17.
written by Breffni O'Rourke, with agency reports