By RFE/RL
MOSCOW -- Security has been tightened in the Russian capital after a suspected suicide bombing at the country's busiest airport killed at least 35 and wounded more than 150.
President Dmitry Medvedev called the blast at Domodedovo airport a terrorist attack and vowed to find those responsible.
U.S. President Barack Obama condemned the "outrageous act of terrorism" and offered any assistance.
At a news conference in Mexico, U.S. Secretary of State Hillary Clinton said the United States stood by the Russian people.
"I want to express a very strong condemnation of today's terrorist attack at the Moscow airport," Clinton said. "We stand with the people of Russia in this moment of sorrow and grief, and we offer both our condolences and our very strong solidarity as they continue the struggle that so many of us face in combating and eliminating this international terrorist threat."
UN Secretary-General Ban Ki-moon said he was "appalled" by "this deplorable and unjustifiable act of violence against innocents."
Also joining the international condemnation was Afghan President Hamid Karzai, who recently visited Moscow to boost bilateral ties.
No one has claimed responsibility for the attack, although suspicion is likely to fall on militants from the North Caucasus region in Russia's south.
The Kremlin is struggling to contain an Islamist insurgency in the mainly Muslim North Caucasus. Militants there have vowed to take their struggle to the heart of Russia. Analysts say rebels are planning to increase violence in the run-up to the 2012 presidential elections.
Ria Novosti quoted a law enforcement official as saying that police had received advance warning of a possible terrorist attack. The unnamed source told the news agency that "agents were looking for three suspects" and that apparently two escaped just after the suicide bomber detonated the explosives.
In March 2010, Moscow suffered its worst attack in six years when two female suicide bombers from Daghestan set off explosives in the metro, killing 40 people.
WATCH -- The explosion was captured by a CCTV security camera (video by Reuters):
WATCH -- Video posted on YouTube shows the immediate aftermath of the explosion (viewer discretion advised):
Eyewitnesses described scenes of carnage after the blast ripped through the international arrivals hall near the baggage claims area.
"I was sitting about 30 or 40 meters from the explosion," eyewitness Sergei Lavochkin told Russian television by telephone from Domodedovo. "I heard a loud noise and saw some plastic slabs falling from above. I heard screams and saw smoke. There was panic. People who had been sitting there started running away."
Interfax reported that the head of the suspected bomber had been found.
Grisly Video
A video posted on YouTube shows smoke and small fires inside the airport in the aftermath of the blast. A number of bodies can be seen lying on the floor. One man in a suit walks dazed through the carnage, pushing a luggage cart.
Another eyewitness named Andrei spoke to City AM radio station after the attack. "Burned people are running about…They are carrying pieces of flesh on stretchers. Something terrible is happening there. Tens of people are being dragged out on stretchers, on trolleys."
WATCH -- Scenes of chaos at Domodedovo airport in the aftermath of the bombing:
A pool of frozen blood could be seen on the ground outside the airport.
Hours after the bombing, Domodedovo spokeswoman Yelena Galanova told journalists that flights had resumed.
"The airport is functioning normally now, both for departures and arrivals. Departures have not been delayed because the site of the explosion is far from check-in desks and from where baggage is processed, so departures have not been affected," Galanova said.
"We were closed for arrivals for some time and six flights were sent to backup airports, but now operations have been fully normalized and flights continue to arrive," she added.
Security Questioned
The attack has already triggered questions about the competence of the Russian security services and police.
Sergei Goncharov, a veteran of the elite Soviet special services unit called Alfa, told RFE/RL's Russian Service, "If a suicide bomber can bring 5 kilograms of explosive into Domodedovo, past all [security] checks, then it says once again that our law enforcement organs cannot ensure [public] safety."
The blast also deals a setback to Russia's attempts to polish its image on the world stage as it prepares to host the 2014 Winter Olympics and 2018 World Cup.
Domodedovo handles more passengers and cargo than any other airport in Russia. More than 22 million passengers pass through the facility a year. There are 77 airlines, many of them international, working from the airport.


with contributions from Kevin O'Flynn in Moscow, RFE/RL's Russian Service, and agency reports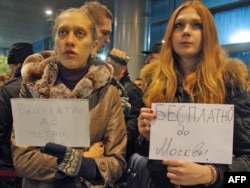 Women hold placards offering free rides into Moscow for those affected by the bombing at Domodedovo airport.