Russian President Dmitry Medvedev has vowed to take action against ultranationalists and anyone else involved in rioting in the center of Moscow during a weekend protest by soccer fans.
At least 30 people were reported to have been injured in the December 11 clashes with police that erupted during a rally that drew some 5,000 soccer fans and nationalists protesting the death of a fan in a street brawl last week.
Medvedev late on December 12 posted a message on his Twitter page saying that "we will deal with everyone who defiled things. Everyone. You can be certain of that."
Today, Medvedev told senior law enforcement officials that rioters who committed violence against other people in Moscow "must be brought to account and punished."
"Actions aimed at inciting racial, ethnic, or religious hatred are particularly dangerous as they threaten the stability of the state," Medvedev said.
"In dealing with such actions the police can and must use all of its powers and means prescribed by the law."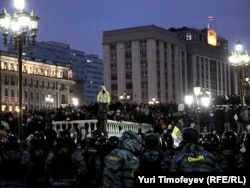 Riot police clash with fans on Manezh Square on December 11.
The violence, which some say has exposed close links between extremists and soccer supporters, is an embarrassment for Russia less than two weeks after it won the right to host the FIFA World Cup in 2018.
The December 11 rally was originally called to protest the handling an investigation into the December 5 shooting death of Spartak Moscow fan Yegor Sviridov.
Sviridov, a member of a radical Spartak Moscow fan group, reportedly was shot dead during an interracial brawl with men from Russia's North Caucasus region.
At least one man from the region, Aslan Cherkesov from Kabardino-Balkaria, was detained last week in connection with Sviridov's slaying. His companions were released after questioning.
Soccer Links To Extremists Denied
The unsanctioned rally at Manezh Square on December 11 quickly unraveled into a riot in which thousands of demonstrators -- many of them hooded youths in black jackets with scarves over their faces -- chanted racist slogans and pelted police with stones, empty bottles, flares, and blocks of ice. Some of the rioters attacked police with metal rods.
Chants of "Russia for Russians" and slogans against the Caucasus reverberated across the square near the Kremlin's walls.
Amir Khuslyutdinov, the leader of Spartak Moscow's fan club, told reporters on December 12 that the violence was the fault of ultranationalists. Khuslyutdinov denied any link between ultranationalists and Russian soccer fans.
"I can say with certainty that Moscow soccer fans did not take part in the events in Manezh Square," Khuslyutdinov said.
Russian Football Union head Sergei Fursenko also sought on December 12 to distance Russian soccer organizations from violent ultranationalists.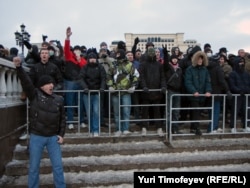 Soccer fans, or ultranationalists?
"Football is outside politics, I'd like to say it once again, and no political parties or movements will make us shout their slogans," Fursenko said.
Interior Minister Rashid Nurgaliyev blamed the rioting on "left-wing extremists," saying the street fighting hospitalized 13 people -- including police officers.
However, photographs of the rioting show some participants raising their arms in an apparent Nazi salute.

Police Defend Actions
Dozens more protesters were injured as they fought police in Moscow. Demonstrators also attacked passersby who appeared to be of non-Slavic origin -- bloodying the faces of at least five men of Caucasus origin.
Police say a total of 65 people were arrested in Moscow. Authorities say 60 protesters also were arrested at a similar protest in St. Petersburg on December 11.
Moscow police chief Vladimir Kolokoltsev has defended the actions taken by police to quell the rioting -- saying the authorities used reasonable force and showed proper restraint.
"We took adequate action while exercising restraint, which doesn't mean police are going to turn a blind eye to such outrages in the future," Kolokoltsev said.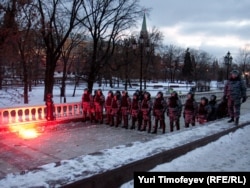 Medvedev: "We will deal with everyone who defiled things. Everyone. You can be certain of that."
"We used force and special means in accordance with the law and will take perhaps even tougher measures [in the future]."

Violence Continues
On December 12, with tensions in the Russian capital continuing to run high, a man from Kyrgyzstan was reported to have been knifed to death by a group of assailants in Moscow.
According to Interfax, 37-year-old Alisher Shamshiev was attacked by a group of about 15 young people who appeared to target him because of his ethnicity. Witnesses say he was severely beaten by the group and then fatally stabbed in the abdomen.
Police also said three migrant workers from Azerbaijan were being treated for serious bullet and knife wounds.
Russian opposition leader Garry Kasparov said at a political rally on December 12 marking Russia's Constitution Day that the ultranationalist violence should serve as a warning to authorities.
"The authorities...understand that their never-ending fight against peaceful, nonviolent protesters cannot end well. [On December 11], we saw what can happen when real mass disturbances and violence break out," Kasparov said.
"I want to believe that the Russian authorities still have some common sense."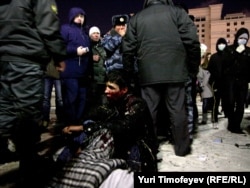 Men who appear to come from the Caucasus were beaten up by protesters on Manezh Square on December 11.
Initial reports during the weekend suggested that police had identified the organizers of the Moscow violence.
But police said later that investigators remain unsure and are examining footage from surveillance cameras in the area to identify people involved in attacking police and passersby.
written by Ron Synovitz, with news agency material