NATO foreign ministers have met in Berlin to discuss the next steps in the alliance's strategy on Libya, where rebels are fighting to end Muammar Qaddafi's longtime rule.
Three weeks of NATO air strikes has failed to tip the balance in favor of the rebels or prevent Qaddafi's forces from carrying attacks on civilians.
NATO two weeks ago took over from the United States leadership of the United Nations Security Council-backed mission to enforce a no-fly zone and protect Libyan civilians.
NATO Secretary General Anders Fogh Rasmussen, opening the April 14 meeting, said the 28-member alliance would continue its air operations as long as Qaddafi's forces continued attacks on civilians.
"NATO and its partners from the Arctic to the Arabian Sea are working around the clock to support UN Resolution 1973 by sea and by air," Rasmussen said. "Our aim is the safety of the people of Libya."
U.S. Secretary of State Hillary Clinton, speaking ahead of the meeting, said NATO was united in seeking an end to Qaddafi's rule.
France earlier this week said NATO is not doing enough, while Britain has called on the alliance to intensify its efforts. Britain and France are leading the air strikes against Qaddafi's forces.
Rebels said on April 14 that Qaddafi's forces launched rockets into Misurata, Libya's third-largest city and the only rebel-held city in the west of the country, which has been under siege for more than six weeks.
compiled from agency reports
Liveblog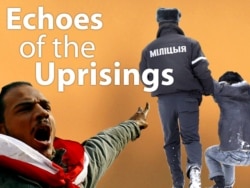 Tracking events and ideas convulsing the Arab world and with ripples around the globe, including RFE/RL's broadcast region.
Click here