Magomed was recently rounded up in the middle of the night and deported from Norway without warning.
The 40-year-old Chechen asylum seeker says he was not even informed that his request had been rejected after seven years living in the country.
Magomed, who declined to give his full name out of fear for his safety, is now living in Chechnya with his parents. He has been left without a job or any money and doesn't know who to turn to for help.
And his is far from an isolated case.
Asylum Numbers Drop
Members of 50 other families living in Norway were deported the same night he was. The number of asylum seekers who have been deported or who have had their applications denied has increased dramatically in Norway as a result of the government's push to drive out illegal immigrants. The rise came even as the number of asylum seekers dropped in 2010, putting the spotlight on the toughening of an asylum process once seen as one of the more welcoming in Europe.
A look at the numbers provided by the Norwegian Directorate of Immigration for January 2009 through February 2011 shows that asylum seekers from Muslim-majority states or regions are disproportionally affected, with citizens of Afghanistan, Iraq, and the North Caucasus regions of Russia accounting for a large percentage of the rejected claims. Considering the instability or authoritarian regimes seen in many of the asylum seekers' home regions or states, concern for their well-being is being raised.
Norway has noted that asylum seekers are entitled to protection if they are in danger of being killed, tortured, or "exposed to other forms of grave abuse" upon being returned to their home country.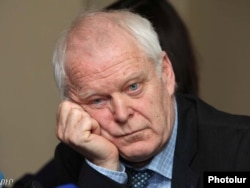 Thomas Hammarberg: Only voluntary returns to Chechnya
European Union Human Rights Commissioner Thomas Hammarberg has denounced Norway specifically for sending Iraqi immigrants back to five provinces in Iraq -- including Baghdad -- that the United Nations Human Rights Commission (UNHCR) considers too unsafe for the return of asylum seekers.
Irfan Qaiser, a policy adviser at the refugee advocacy group Norwegian People's Aid, says the general attitude toward immigrants, and Muslims in particular, has deteriorated in recent years.
"I think in general the tendency [in Europe] has been -- I mean, we see that here in Norway as well -- that the political debate has definitely been going towards more control, more restrictions, and also linked into general integration debates," he says.
"You know, the debate we see in Europe now about the death of multiculturalism, etc., etc. -- that people need to follow, we need to have clear demands on people who come here, and we need to know what they're doing, what they're up to, even into a debate where they have less rights than the rest of the population."
Debate Erupts
In recent years, debate over asylum laws has erupted across the Nordic countries. Incidents linked to the 2005 cartoon controversy in Denmark -- including the burning of Danish embassies in Syria, Lebanon, and Iran, and a suicide blast carried out by an Iraqi-born bomber in Stockholm in December -- have caused antipathy toward Muslim asylum seekers.
Last year, 1,444 asylum seekers and illegal immigrants returned voluntarily to their home countries with support from the Norwegian authorities, a 30 percent increase over 2009, according to the Norwegian Directorate of Immigration's website. One in three was Iraqi.
But there has also been a significant rise in the number of asylum seekers, like Magomed, who are being forcibly deported from the country.
Seventy-one Iraqis were deported in the first two months of this year alone, higher than for all of 2009, according to data from the Norwegian Police Immigration Service.
The number of asylum seekers forcibly sent to Russia, a large proportion of which are from North Caucasus republics like Chechnya and North Ossetia, has skyrocketed.
There were 102 people deported to Russia in the first two months of this year, equal to all of 2010. The most prominent was 25-year-old Madina Salamova, better known by her pseudonym Maria Amelie. She wrote a book about her experience fleeing North Ossetia for Norway as a child. In 2010, Salamova was named "Norwegian of the Year" by a weekly news magazine, and her deportation prompted protests across the country.
EU rights commissioner Hammarberg tells RFE/RL that, considering Chechnya's current political situation, only voluntary returns should be made to that republic.
Dangers At Home
There is evidence that other returnees also face danger after being sent home.
According to the NGO Iran Human Rights, a 19-year-old Iranian Kurd named Rahim Rostami, who was denied asylum by Norwegian authorities and deported in February, now finds himself in prison in Iran. The group reports that he is in danger of torture, ill treatment, or death at Tehran's notorious Evin prison.
Data from the Norwegian Directorate of Immigration shows that between January 2009 and February 28 of this year 8,289 people from Afghanistan, Iraq, and Russia applied for asylum in Norway.
During the same period of time, 6,111 asylum seekers from these countries had their applications rejected and were left with either appealing the decision or returning to their country of origin within three weeks.
Many more were found to be applying for asylum after having their applications rejected in another country in the Schengen area and were returned to be dealt with by the country originally responsible for their application.
Last year, 6.8 percent of rulings were overturned on appeal.
According to the UNHCR, there was a 42 percent decrease in the number of asylum claims in Norway in 2010 compared to 2009. The number of claims rejected increased, however, from 6,196 in 2009 to 7,673 in 2010.
A spokeswoman for the Directorate of Norwegian Immigration, Kirsten Myhre, says the number of asylum seekers has decreased because the country has been so strict over the last two years. She explained how the department weeds out those it doesn't think are in need of protection.
"They are very often not credible," she says. "They are interviewed for more or less one day, and often they don't give information...that they are persecuted at all. They say they have been to prison and released after one hour. Well, if the government really wants them they would have been watched more."
Preserving The System
Hanne Mathisen, a spokeswoman for the UNHCR's office for Baltic and Nordic countries, says the Norwegian government has stepped up its efforts to remove illegal immigrants in order to ensure the system is not abused.
"There is a renewed emphasis on the part of the Norwegian government to ensure that persons that are rejected in the asylum procedure return voluntarily, and if they don't, then that return will happen by force," she says.
"The argument they're making is that it is necessary in order to deter persons that abuse the asylum system, that are actually not in need of international protection. It's also important in order to uphold the integrity of and support for the asylum system."
Qaiser, of Norwegian People's Aid, says there have not been many cases of the Norwegian immigration procedures breaking international conventions -- with the notable exception of a report showing that asylum seekers in some detention centers were woken up every half hour to "prevent them from committing suicide," a form of sleep deprivation Qaiser says is internationally acknowledged as torture.
He says that immigration authorities instead push to the outer limits of what is considered acceptable by international standards. The lack of transparency in the system is what is most worrying to human-rights activists.
"The whole deportation regime is so closed, it's hard to know what goes on, what kind of procedures," he says. "But from time to time we see that police go in the middle of the night picking up families, placing families and children, sending them to these deportation centers. And...we have gotten reports that what goes on in those deportation centers from time to time may be defined as harsh and degrading treatment."
Asylum seekers, meanwhile, just want a place to call home.
Letchi, a Chechen who was a neighbor of Magomed, says his brother was part of the group deported to Russia.
"If they send people back to Chechnya, then they should not keep them for such a long time here [in Norway]," he says. "While they are living here, their children are attending schools. And what should they do back at home [in Chechnya]? Study all over again? The children are suffering. They are neither here nor there.
"My brother and his family were sent back in that way. My brother and Magomed were waiting for the court's decision regarding their status. But they came to him in the night, handcuffed them, and sent them out despite their lawyers' protests. The police say they just follow orders."
Alisher Sidikov and Zamira Eshanova of RFE/RL's Uzbek Service and Merhat Sharipzhanov of RFE/RL's Central Newsroom contributed to this report