PHOTO GALLERY: Osama bin Laden's death welcomed with spontaneous celebrations.By RFE/RL
U.S. President Barack Obama has announced that Al-Qaeda leader Osama bin Laden was killed by U.S. forces in Pakistan, nearly a decade after the September 11, 2001, attacks on the United States.
Speaking at the White House in a ceremony for soldiers who fought in the Korean War, Obama again welcomed the news on May 2.
"I think we can all agree this is a good day for America," Obama said. "Our country has kept its commitment to see that justice is done, the world is safer, it is a better place because of the death of Osama bin Laden."
In a late-night announcement from the White House on May 1, Obama said the world's most-wanted man was killed by U.S. forces inside Pakistan, in a ground operation outside the capital, Islamabad.
Justice had been done, he said.
"The death of bin Laden marks the most significant achievement to date in our nation's effort to defeat Al-Qaeda. Yet his death does not mark the end of our effort. There's no doubt that Al-Qaeda will continue to pursue attacks against us. We must and we will remain vigilant at home and abroad," Obama said.
Bin Laden, who was on top of the U.S. "most-wanted" list, was accused of being behind a number of deadly militant attacks, including the suicide hijack attacks on New York and Washington on September 11, 2001, in which nearly 3,000 people died.
He is also widely believed to have been behind the 1998 bombings of U.S. embassies in Tanzania and Kenya and the 2000 suicide attack against the "USS Cole" in the Yemeni port of Aden.
U.S. media reports quoted senior U.S. officials as saying bin Laden was buried at sea because Islamic practice and tradition calls for speedy burial, but they did not say where.
Death Welcomed
The announcement was welcomed around the world as a victory in the fight against terrorism and sparked scenes of jubilation in Washington and New York.
But its impact on Al-Qaeda and global terrorism is unclear, and some Western leaders have warned of the possibility of revenge attacks.
PHOTO GALLERY: Osama Bin Laden -- A Terrorist's Life
The son of a wealthy Saudi construction family, bin Laden joined the mujahedin in Afghanistan soon after the Soviet invasion. His Arab followers later formed the nucleus for Al-Qaeda.
In Washington, crowds gathered outside the White House chanting "U.S.A., U.S.A., U.S.A.!" and telling our correspondent what the news meant to them.
"I'm really glad this happened, that the families can finally get peace, and that we can all finally move on from this," one woman said, "I hope this means this is a new chapter for us. Maybe we can get some progress with what's going on. We can leave all this in the past and finally look forward. It's been a long time."
"I think it's an important marker on the timeline in the war on terror," one man said. "I think it will make people feel a lot more secure about the direction of the war on terror, and it will reassure people how serious we are about the war on terror."

'Learn Their Lesson'
Afghan President Hamid Karzai said today the killing of bin Laden in Pakistan "proved" to the world that the "the fight against terrorism is not in Afghanistan." Karzai also said the Afghan Taliban should "learn their lesson" and stop fighting.
"I call on the Taliban to learn their lesson from what happened in Abbottabad yesterday, and refrain from fighting, refrain from destroying their own country and killing their own brothers, Muslims, and children of their own land," he said. "They should side with peace and security and save their own country from this misery and chaos. If they haven't learned their lesson by now, I hope they would realize it today that they shouldn't fight against their own people."
Pakistani Foreign Ministry spokeswoman Tehmina Janjua said the terrorist leader's death "illustrates the resolve of the international community, including Pakistan, to fight and eliminate terrorism."
Turkish President Abdullah Gul said bin Laden's death should serve as a warning to other terrorists and leaders of terrorist organizations.
The Kremlin hailed the death of the Al-Qaeda chief as a great success, adding that it was willing to step up its cooperation with Washington in the fight against terror.
China said killing the world's most wanted terrorist was "a major event and a positive development in the international struggle against terrorism."
At the UN, the Security Council urged all countries to intensify efforts to fight terrorism, and recalled "the heinous terrorist attacks" committed by the Al-Qaeda network throughout the world.
Striking a different tone, the head of the Hamas government in the Gaza Strip, Ismail Haniyah, condemned "any killing of a holy warrior or of a Muslim and Arab person."
But a spokesman for the Western-backed Palestinian Authority, Ghassan Khatib, said the killing of bin Laden was "good for the cause of peace worldwide."
WATCH: U.S. President Barack Obama announces that Osama bin Laden was killed in a firefight with U.S. forces in Pakistan:

Obama said he had been briefed in August 2010 on a possible lead to bin Laden's whereabouts.
"I met repeatedly with my national security team as we developed more information about the possibility that we had located bin Laden hiding within a compound deep inside of Pakistan," Obama said.
"And finally, last week, I determined that we had enough intelligence to take action, and authorized an operation to get Osama bin Laden and bring him to justice," he added.
A small team of U.S. forces took possession of his body after a "firefight" in Abbottabad, about 60 kilometers north of Islamabad, on May 1.
Pakistani officials said bin Laden's guards opened fire from a building described as a two-story house just meters from a Pakistani military academy.
One of the helicopters carrying U.S. forces is said to have crashed, but Obama said U.S. forces suffered no casualties during the operation.
U.S. officials have admitted that they had not informed Pakistan of the operation until after it was over and all the U.S. Special Operations Forces involved in the raid had left Pakistani airspace.
But Obama said Pakistani security officials had helped "lead us to bin Laden" and he thanked President Asif Ali Zardari for the cooperation.
Secretary of State Hillary Clinton echoed that message.
"Cooperation with Pakistan helped lead us to bin Laden and the compound in which he was hiding," Clinton said. "Going forward, we are absolutely committed to continuing that cooperation and it is not just cooperation between governmental agencies. It is cooperation between the people of the United States and the people of Pakistan."
But the question of whether Pakistan knew that bin Laden was holed up in the compound is being asked across Washington. At a press conference, the chairman of the House Select Committee on Intelligence, Mike Rogers, said he had questions for Islamabad.
"I don't want to speculate if [the Pakistan government] did or they did not [know bin Laden was in the compound]," Rogers said. "We're going to ask those questions, I think Americans have the right to know that, I would like to know what they knew."
National security adviser John Brennan also alluded to doubts about whether Pakistani officials protected bin Laden as he spoke about the intelligence trail that led U.S. officials to the large house in an Islamabad suburb.
"People have been referring to this as hiding in plain sight. Clearly, this was something that was considered as a possibility. Pakistan is a large country," Brennan said.
"We are looking right now at how he was able to hold out there for so long and whether or not there was any type of support system within Pakistan that allowed him to stay there."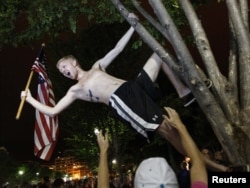 A man cheers outside the White House in Washington after the announcement of the death of Osama bin Laden in Pakistan.
He also insisted that the United States was not at war with Islam.
"We must also reaffirm that the United States is not and never will be at war with Islam. I've made clear, just as [former] President [George W.] Bush did shortly after 9/11, that our war is not against Islam. Bin Laden was not a Muslim leader, he was a mass murderer of Muslims," Obama said.
"Indeed, Al-Qaeda has slaughtered scores of Muslims in many countries, including our own. So his demise should be welcomed by all who believe in peace and human dignity."
'Victory For America'
In other reactions to the news, former President George W. Bush described the announcement of bin Laden's death as "a victory for America." In a statement, he said: "The fight against terror goes on, but tonight America has sent an unmistakable message: No matter how long it takes, justice will be done."
New York Mayor Michael Bloomberg said he hoped the news would comfort those who lost loved ones on 9/11.
British Prime Minister David Cameron said bin Laden's death "will bring great relief" across the world.
Israeli Prime Minister Binyamin Netanyahu congratulated the United States on "a victory for justice."
To many in the West, bin Laden became the embodiment of global terrorism. To others, he was a hero and devout Muslim.
The United States has put its embassies on alert, warning Americans of Al-Qaeda reprisal attacks.
The global police agency Interpol called for increased security measures, warning that the death of bin Laden could provoke reprisal attacks around the world.
In a telephone interview with Reuters, a spokesman for the Pakistani Taliban, Ehsanullah Ehsan, threatened attacks against Pakistani government leaders, including President Zardari, the army, and the United States.
Concerns over continued violence were shared by a resident of Afghanistan's eastern Konar Province, Said Agha Myakhil, who spoke to RFE/RL's Radio Free Afghanistan.
"Osama was not only against Europeans and Americans in Afghanistan, but he was leading a worldwide movement against Western ideologies and values, so I don't believe this will reduce from the amount of militancy in Afghanistan," he said. "There are Taliban, some of our neighboring elements, and others who will keep fueling the fire in Afghanistan."
written by Antoine Blua in Prague, with contributions from Richard Solash in Washington and RFE/RL's Radio Free Afghanistan