U.S. President Barack Obama welcomed German Chancellor Angela Merkel to the White House today for talks on a wide array of pressing global issues, from how to deal with Libyan strongman Muammar Qaddafi to Europe's debt crisis to the drawdown in Afghanistan and Iran's nuclear program.
While this is Merkel's sixth visit to the United States since Obama's January 2009 inauguration, it is the first to be accompanied by a state dinner, welcoming band, and 19-gun salute.
Although their relationship is said to be cordial but not warm, Merkel is the first European leader to receive such a welcome from Obama, who has only extended similar honors to the leaders of India, Mexico, and China.
At a ceremony for the German chancellor on the White House lawn this morning, Obama said the reception was a testament to relationship between the two allies at a time of global challenges.
"Today marks the first official visit and state dinner for a European leader during my presidency. It is only fitting. The transatlantic alliance is the cornerstone, is the heart of our efforts to promote peace and prosperity around the world. Germany, at the heart of Europe, is one of our strongest allies, and Chancellor Merkel is one of my closest global partners," he said.
Libyan Challenge
Among the challenges that the United States and Germany have faced in recent months is how best to respond to the Libyan leader Muammar Qaddafi's violent crackdown on antigovernment rebels and the ensuing civil war.
It's a challenge that Washington and Berlin have differed on, with Germany deciding in March to abstain from the UN Security Council vote authorizing military action to protect civilians being targeted by Qaddafi's forces. It was the only EU or NATO member to withhold its support.
But at a joint press conference following the two leaders' meeting, Obama suggested that common ground outweighed their differences.
He said that he and Merkel agree that Qaddafi must step down and he thanked Germany for taking on additional responsibilities in Afghanistan which "freed up resources" for Libya operations. He also said he expected Germany to play a role in supporting a post-Qaddafi era.
For her part, Merkel said Germany was "committed to the Libyan cause" and the success of the NATO mission.
Obama said "pressure will only continue to increase" on the Libyan strongman until he exits.
"What you are seeing across [Libya] is an inexorable trend of the regime forces being pushed back, being incapacitated, you are seeing defections, often times of some very high-profile members of the Qaddafi government as well as the military," he said, "and I think it is just a matter of time before Qaddafi goes."
Eurozone Woes
Europe's debt crisis, and in particular, Greece's dire financial situation, also featured in today's talks.
Obama said he and Merkel spoke "extensively" on the issue and pledged U.S. cooperation to help Athens avoid a potential default on its massive debt, something he said would prove "disastrous" for the world's economy.
Eurozone sources said today a proposal for a second Greek bailout worth 80 billion to 100 billion euros was taking shape. German support for the plan is required.
But Merkel is under political pressure at home to avoid letting Germany become the financial savior for other struggling European countries.
In general, Merkel and Obama have not seen eye-to-eye in responding to the global recession of the late 2000s, with the U.S. leader favoring stimulus spending and the German leader backing an austerity-driven approach.
Nevertheless, Merkel today said Berlin would do what is necessary to safeguard the euro.
The NATO-led mission in Afghanistan, and timetables for the withdrawal of troops, was also discussed at today's meeting.
Merkel said U.S.-German cooperation on Afghanistan would continue through troop withdrawals and beyond.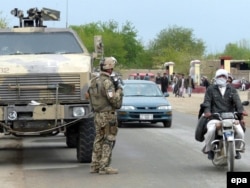 German soldiers from NATO's International Security Assistance Force (ISAF) patrol in Kunduz, Afghanistan.
"Our engagement in Afghanistan shows how strongly united [Germany and the United States] are," she said.
"We share the conviction that we are in a deployment in Afghanistan that is required to provide security -- a political and military deployment -- and we say that we went in there together and we will one day leave together, in a responsible way, without forgetting that Afghanistan will need our support for a long time."
The United States has about 100,000 troops in Afghanistan and the start of a drawdown is expected this summer. Germany hopes to start bringing their troops home at the end of the year.
A Full Plate
Obama and Merkel also said they had discussed the Israeli-Palestinian conflict in their wide-ranging meeting, with both urging renewed dialogue and voicing opposition to a planned Palestinian push for unilateral recognition of statehood at the UN in September.
The leaders also discussed Iran's hidden nuclear program and agreed to consider implementing new sanctions if the UN's nuclear watchdog body finds that Tehran is again failing to disclose details about its uranium enrichment.
Later today, Merkel is scheduled to receive the Presidential Medal of Freedom, the highest U.S. honor that can be bestowed on a civilian.
Merkel is the first East German and first woman to become chancellor of the unified Germany, and Obama said she "represents the unification of Europe through her own life story and the capacity to overcome the past and point towards a brighter future."
Tonight she will be honored at a state dinner, served outside in the White House's famous Rose Garden. White House chefs have prepared a special German dessert for the occasion -- apple strudel with schlag, unsweetened whipped cream.
written by Richard Solash with agency material