KYIV -- Bare breasts, hijabs, and fried eggs are not common ingredients in social protest movements.
But to "Femen," a Ukrainian feminist movement with hundreds of members and thousands of supporters, such tactics are essential elements in their struggle to raise social consciousness as an increasingly authoritarian state attempts to silence them.
Anna Hutsol, the petite ginger-haired mastermind of Femen, spoke to RFE/RL in "Cupidon," the group's cellar bar and headquarters in downtown Kyiv.
"When there is this kind of pressure, people realize it is not enough to just go out and demonstrate and set up tents. You need to carry out some kind of action so as to get maximum play from the situation and to attract maximum attention," Hutsol says.
Topless Protests
That is precisely what Femen have done since they formed in 2008. The radical feminist group have rapidly made both friends and enemies with their topless -- and often raunchy -- protests against the discrimination of women in what they call Ukraine's patriarchal post-Soviet society.
"Topless protests are probably the strongest and most effective form of peaceful and nonviolent protests to attract attention. You can throw a grenade, go on hunger strike, blow something up or shoot someone. Or you can go out topless," Hutsol says.
Ever-ambitious and brazen, Femen have raised their sights from simply domestic battles, such as championing tougher legislation against the clientele of prostitutes, to international women's issues.
Earlier this month, for example, they protested in trademark style against a Saudi law preventing women from driving. Half-naked Femen activists sporting hijabs hung out of car windows driving in convoy past Saudi Arabia's Embassy in Kyiv, while brandishing signs which read "cars for women, camels for men."
Femen, which is funded through grants from private charities and T-shirt sales, has become a cause celebre for civil society groups in Ukraine and abroad. Hanging next to a denim bra on Cupidon's wall of news clippings is a small blue bucket -- a gift from the Blue Bucket Society, Russian civil society stalwarts who have protested against government cars using blue flashing lights to flout traffic laws.
Femen's antics have thus far made little impact on one of their main goals -- raising the 8 percent female representation in the 450-seat Ukrainian parliament, the Verkhovna Rada -- in their three years in existence. But Hutsol says that society on the whole has begun to accept and understand that this is an issue -- "no mean feat," she adds, for Ukraine's male-dominated society.
She says numerous other groups have approached Femen for help, "moreover on matters that have nothing to do with women's issues.
"It's nice that people see us as a very serious pressure group that can attract maximum attention to an issue. We are like Robin Hoods in female form and it's really nice, although unfortunately we don't have the strength and funding to be everywhere," Hutsol says.
Femen has inspired other quirky protests in Ukraine's increasingly eccentric civil-society landscape. Last December, activist Anna Sinkova, a Kyiv artist, fried eggs and sausages in a frying pan over Kyiv's "Eternal Flame," the grave to the Unknown Soldier and historic monument common to practically every post-Soviet capital.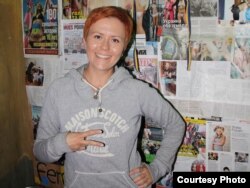 Femen's Anna Hutsol in the Cupidon bar
Sinkova said she sought to highlight the plight of Ukraine's war veterans, who lack support from the same state that finances projects such as the Eternal Flame. She has been charged with desecrating a grave.
Last month, two more activists filmed themselves
emulating her protest
as a gesture of support.
Hutsol says the radicalism in Ukraine's civil society is a reaction to the creeping authoritarianism many see developing under President Viktor Yanukovych, who came to power in February 2010.
"To start with, we found it wild. Before the appearance of Yanukovych, we had gotten used to living in a free country and protesting. When these limits appeared we were shocked, but we continued our fight," Hutsol says.
"For us now it is an everyday reality. We know what can happen and that we can be arrested and jailed, that the police can hurt us. But it doesn't stop us. Instead we come up with ways to protest while managing to escape."
Reprisals
Another Femen member, Anna Shevchenko, 21, tells RFE/RL that she was fired from her job in the press service of the Kyiv administration after she was arrested for taking part in a topless protest against Prime Minister Mykola Azarov's cabinet.
Shevchenko says the police now have a "system in place for arresting them." She says the police have threatened to frame activists by planting drugs on them, while other Femen activists have left their ranks after being threatened with expulsion from university for participation in the group.
Hutsol says members of the security services came to her apartment in the night and "threatened her and asked for her to stop the movement."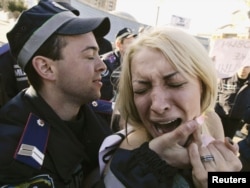 Police detain a Femen activist during a protest in downtown Kyiv in April.
But despite the setbacks and pressure, the group says it has enjoyed limited success in pushing its agenda. The parliament, for example, is currently considering legislation criminalizing paying for prostitutes.
The activists have demanded amendments to legislation on prostitution before tens of thousands of soccer fans arrive in Ukraine next year for the European Championship. The prostitution industry generates over a billion dollars a year.
To drive home the point, earlier this month, half-naked Femen activists sporting a whistle and other soccer-refereeing paraphernalia showed a "red card" to the organizers of the European Championship that Ukraine will host next summer.
Hutsol says she is considering a foray into politics but stresses that any moves into mainstream politics could not be pursued under the Femen brand.
The group numbers 300 activists in Kyiv of which 20 take part in "topless" protests. There are a further 50 in the regions, including Odesa and Dnipropetrovsk, while their Internet support base counts roughly 25,000.
"That's quite enough for a radical women's movement, I think," Hutsol jokes.