OSCE Summit Concludes Final Session Without Deal On Action Plan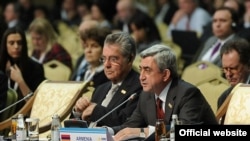 The OSCE's first summit in more than a decade has concluded without agreement on an action plan meant to strengthen the security group's role in the future and further its mission of preventing and resolving conflicts in Europe and former Soviet republics.
World leaders at the summit did adopt a declaration of principles, which "reconfirmed the group's comprehensive approach to security based on trust and transparency" and says in part:
"Increased efforts should be made to resolve existing conflicts in the OSCE area in a peaceful and negotiated manner, within agreed formats, fully respecting the norms and principles of international law enshrined in the United Nations Charter, as well as the Helsinki Final Act. New crises must be prevented," it stated.
Kazakh President Nursultan Nazarbaev (right) and Foreign Minister Kanat Saudabaev at the OSCE summit on December 2.
Despite the lack of an action plan, Kazakh President Nursultan Nazarbaev called the two-day summit a "historic success" and said "the result opens a new chapter in the life of our organization."
In remarks earlier at the summit's final scheduled session, Nazarbaev said he hoped leaders could find agreement and "overcome the differences" in the remaining hours. Nazarbaev told leaders still at the two-day event that he was "counting on" their flexibility -- saying history had given them a "unique chance" and that "it would be unforgivable to lose it."
'Spirit Of Unity'
Italian Prime Minister Silvio Berlusconi also made an unscheduled plea to the summit to "show a true spirit of unity and spell out specific objectives" for the OSCE's future.
Kazakh Foreign Minister Kanat Saudabaev, who is the current OSCE chairman in office, tried to portray developments in a positive light after talks on December 1 between U.S. Secretary of State Hillary Clinton and Nazarbaev on the sidelines of the Astana summit.
"The sides agreed that the effective chairmanship of Kazakhstan, including hosting in Astana the first OSCE summit of the 21st century, has given a new impetus to the activity of the organization in strengthening of security and developing cooperation in the sphere of OSCE responsibility," he said.
But the 56 member countries in the group operate by consensus -- meaning any single country can block the final communique and the "framework for action" that diplomats hope will define its future role.
Privately, diplomats said agreement on a new OSCE action plan was being delayed because of references to specific controversial issues -- including Moldova's breakaway Transdniester region, lingering Russia-Georgia tensions, and the Armenia-Azerbaijan dispute over Nagorno-Karabakh.
Russia-U.S. Disagreements
The OSCE was established as a Cold War forum to resolve tensions between East and West. It has struggled to retain its relevance in the face of unresolved, long-standing conflicts among member states and new threats such as terrorism, border security, and cybercrime.
On December 1, before Clinton left for neighboring Kyrgyzstan, she and Russian President Dmitry Medvedev urged a revamp of the OSCE so that it is better able to cope with the security threats of the 21st century.
Russian President Dmitry Medvedev in Astana
But at the same time, they highlighted issues of disagreement between Russia and the United States -- including sharply different views on the conflict between Georgia and its breakaway regions, which Moscow supports.
Clinton blamed Russia for blocking the creation of an OSCE mission in Georgia. Medvedev accused Georgia of using impermissible force in its brief 2008 war over the breakaway region of South Ossetia.
Meanwhile, the OSCE's so-called Minsk Group issued a statement on December 1 saying the presidents of Azerbaijan and Armenia had agreed that the time has come for more decisive efforts to resolve their dispute over the Nagorno-Karabakh conflict.
Ethnic Armenian forces backed by Yerevan won control of Nagorno-Karabakh from Azerbaijan in a war that ended with a cease-fire in 1994, but clashes along the cease-fire line have continued, claiming the lives of more than 20 soldiers on both sides this year.
Caucasus Tensions
The December 1 statement says Armenia's President Serzh Sarkisian and Azerbaijan's President Ilham Aliyev reaffirmed their commitment to seek a final settlement to that conflict.
But on December 2, the Armenian president told the summit in a speech that Azerbaijan was not interested in resolving the conflict. Instead, Sarkisian said Baku was trying to cause as much harm as possible to Armenia.
Sarkisian also said that if Azerbaijan took aggressive actions over Nagorno-Karabakh, Armenia would have no other option but to de jure recognize the self-proclaimed Nagorno-Karabakh republic and exert every effort to ensure its security.
The Astana summit is the last major event in Kazakhstan's chairmanship of the OSCE before Lithuania takes over the rotating office.
written by Ron Synovitz, with agency reports