Interview: Award-Winning Georgian Director 'Opens Emotional Side' Of Abkhaz Conflict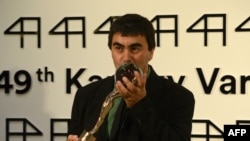 Georgian film director Giorgi Ovashvili on July 12 walked away with the Grand Prix at the prestigious 49th annual Karlovy Vary film festival. His entry, "Corn Island," is a subdued psychological drama about the relationship between an old man and his granddaughter living on an island in a river that forms the border between the breakaway region of Abkhazia and the rest of Georgia.
RFE/RL Georgian Service correspondent Koba Liklikadze spoke with Ovashvili at the festival shortly before the award was announced:
RFE/RL: How did the screenplay for your film develop?
Giorgi Ovashvili: The idea for the film came to us a long time ago, when I collaborated with [Georgian writer] Nugzar [Shataidze] on a previous film. He had the theme sketched out somewhat. The story unfolds on the Enguri River. There has been a spring flood, and the farmers are looking for good, fertile soil brought by the river so they can develop their corn fields. This was the original idea. And then we decided to develop it further, turning it into a film script. Unfortunately, Nugzar Shataidze passed away before the script was written and we had to finish it up ourselves.
RFE/RL: Much of the film is in Abkhaz with Georgian subtitles…
Ovashvili: While working on the script, I chose to make our protagonists Abkhaz. As you know, the story takes place on the Enguri River, which is the dividing line of the conflict. We thought telling the story from the other perspective would be more interesting, even for Georgian audiences. Much of what happens on the other side remains beyond our reach, both in terms of information and emotion. We tried to open up the emotional side of it and tell Georgian audiences the story from another angle.
RFE/RL: Were you able to cross the border?
Ovashvili: During the filming process, we did not try to cross over into Abkhazia. Our project was very specific. It required a very concrete location. We searched for very long time, but were unable to find an appropriate island in any river in Georgia. Therefore we were forced to create an island right in the middle of Tkibuli Reservoir.
After "Corn Island" won the top prize on July 12, Liklikadze caught up with director Ovashvili again to get his reaction:
RFE/RL: I watched how you went on the stage and you looked very relaxed. Were you expecting to win?
Ovashvili: To be honest, I did not expect such a victory. Although I was asked yesterday to be present at the award ceremony and not to leave the festival on Friday as I had planned, it was still a surprise to me. I thought, well, maybe our movie is going to get some recognition. But the Grand Prix? No. Even though the movie was leading in some ratings from the day of the screening, I knew that ratings are one thing and the jury's decision is another.
RFE/RL: What does this prize mean for the movie's chances to get wider distribution?
Ovashvili: It will open up huge opportunities for our movie. It increases the chances for it to be sold and distributed in different countries around the world. We've already received quite a few offers from various distributors. I think it's a good start for us. This festival screening was the world premiere, by the way. So it was a good start which, I hope, will secure a successful future for our film.
WATCH the trailer for "Corn Island":
Server error
Oops, as you can see, this is not what we wanted to show you!

This URL has been sent to our support web team to look into it immediately. Our apologies.
Please use Search above to see if you can find it elsewhere