One might hope Pakistani extremists would lie low after killing Salman Taseer over the country's blasphemy law.
Far from it.
In the weeks since the Punjab governor's assassination on January 4, Islamist extremists have not just ignored all international and domestic criticism of the killing. They have also stepped up their own enforcement of the blasphemy law by accusing one of Pakistan's most prominent civic leaders of violating it.
A summons filed recently in a court in Multan, in southern Punjab, accuses Sherry Rehman of insulting the Prophet Muhammad in a recent television interview. Rehman, a parliament deputy who is also a former cabinet member and senior member of the Pakistan People's Party, denies the charges.
But concern that she could be assassinated now makes her a virtual prisoner in her heavily guarded home. Government officials insist on 48 hours' notice before she goes out, because of fears of plots against her.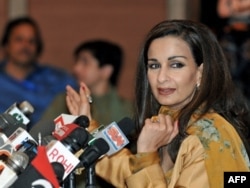 Former Information Minister Sherry Rehman is now a virtual prisoner, due to fears for her life.
The liberal legislator is a particularly high-profile target because she has refused to withdraw a proposed bill that would criminalize those who make false accusations of blasphemy -- a crime that carries the death penalty. That puts her on the same front line where Taseer -- who adamantly opposed the misuse of the blasphemy law -- stood and fell.
Rehman is hardly the only person to have been tagged with blasphemy in recent weeks. A mullah in Punjab was jailed recently after he pulled down a poster that Islamic activists had placed on the mosque premises despite his ban on pamphleteering. The activists accused him of disrespect for the religious message on the poster and the judge sentenced him to 10 years.
Afraid To Speak Out

The new offensive comes as the government -- and civil society in general -- remains unable to form a strong response to the Taseer killing. Instead, the government has opted for a cool-down strategy to contain the crisis, which in many ways leaves the extremists looking victorious.
The cornerstone of the cool-down strategy is an announcement this month by Prime Minister Yousaf Raza Gilani that the government has no plans to amend the blasphemy law that Taseer died opposing.
Now, the defense attorney for Aasia Bibi, whose death sentence on blasphemy charges is at the heart of the current deadly struggle over the law, has decided to put off requesting an appeals hearing for his client. That is out of fear passions over her case would explode if her trial reopens now, and it would be impossible to have a fair hearing.
Bibi, a Christian, was accused of blasphemy in June 2009 after an argument erupted over her use of a water pitcher belonging to a Muslim co-worker. She has already spent more than a year in prison waiting for a review of her case by the provincial High Court in Lahore, which historically has overturned all blasphemy death sentences despite the lower courts' readiness to issue them.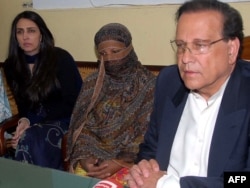 Punjab Governor Salman Taseer (right) met with Aasia Bibi in November.
Ironically, in the supercharged atmosphere following Taseer's shooting, even many of Bibi's supporters feel it is safer to delay her appeals hearing, even though that prolongs her time in jail.
"We already filed an appeal for her in the High Court, but the hearing date is not yet fixed, because the situation is very bad, and right now fixing her date of hearing for her appeal will be a big mistake," Joseph Francis, national director of the Center for Legal Aid Assistance and Settlement, a Pakistani Christian organization, told RFE/RL's Radio Mashaal.
Moderates In Retreat
But there are still other signs that the extremists feel emboldened after the Taseer assassination, while moderate Pakistanis feel the opposite.
Efforts by secularists to raise a petition of thousands of signatures to call for state prosecution of an imam, Movlana Yousaf Quraishi, who heads one of Peshawar's two biggest mosques and has offered a cash bounty of $5,800 to anyone who kills Bibi.
So far, the petition has raised just a few hundred signatures over several weeks, leaving the imam free of pressure to withdraw his offer and leaving Bibi in imminent danger of being killed by a bounty hunter, either in prison or if she is eventually set free.
Perhaps worse is the growing sense among moderate Pakistanis that there may never be punishment for extremists who accuse people of blasphemy and rely on fear to silence their opponents.
Shahab Khattack, an attorney in Peshawar, says that the problem is not the laws on the books. "Under Section 182 of Pakistan's Penal Code, legal action can be taken against anyone who levels false charges against someone, or police investigation proves that the person is not guilty."
Similarly, the law forbids the destruction of non-Muslim religious sites. But the problem is that no one "has been prosecuted yet and nobody has the courage to take it to the court of law," Khattack says.
"Because now the issue [of blasphemy] has exceeded all boundaries, now attacking somebody's religious places is a very minor thing," he continues. "Now killing religious minorities, looting their homes, kidnapping them, asking for ransom, and attacking their religious places are a routine matter."
In the absence of prosecution, the feeling of impunity among extremists seems only to grow stronger with time as their critics grow quieter.
Drowning Out Secular Voices
Nowhere is that more evident at the moment than in the Pakistani media. When a recent talk show on Dunya TV tried to hold a debate over the blasphemy law, the three guests from Islamist political parties literally shouted down their three moderate interlocutors. Last month, when Islamists bulldozed a church near Lahore, it was barely reported in the national media at all, perhaps out of the same fear of drawing anger.
The measure of just how much fear the extremists have been able to create is easiest to gauge by speaking to Pakistan's minority communities. Christians, Hindus, Sikhs, and other minorities feel so embattled today that they do not even try to mask their emotions.
When Radio Mashaal recently asked Pakistan's sole Sikh member of the National Assembly, Araish Kumar, if his community is afraid, he replied: "Of course, of course, of course, our community is very scared. There is no doubt about that, of course we are scared."
The tragedy is that things do not have to be this way. Lost in the angry shouts of "blasphemy" by the extremists is the fact that even now Islamist parties do not hold a majority in any provincial parliament or the National Assembly. Nor is there any sign that they could muster such a popular majority in any coming elections.
But what the Islamists do have is a readiness to call out supporters into the streets and links to a network of radical mosques and madrasahs that can supply that street power on demand. And extremists have a readiness to assassinate not just secular politicians like Taseer who oppose them, but also moderate clerics. Seven nationally respected clerics who ran madrasahs and issued fatwas ruling that killing is against Islam have been assassinated over the past three years.
So far, that strategy has proved enough to keep Pakistan's much stronger institutional powers off balance. And enough to raise the possibility that if it is not rolled back, street power could become decisive in the country.