The assassination of Salman Taseer, the governor of Punjab, has robbed Pakistan of one of its most vocal champions of secular and liberal values.
The slaying underlines again the central struggle in Pakistan over the identity of the country. Will it be, as Taseer hoped, a vibrant democracy dominated by its educated middle class and with a civilian government and free press? Or will it be a country dominated by ideas of jihad and extremism, where those with liberal ideas must retreat, keep silent, and hope for the best?
Taseer's hallmark was his readiness to lay out this choice before his countrymen in its starkest terms and demand that Pakistan rise to the challenge.
The 65-year-old governor was quoted by media as warning just a few weeks before his assassination on January 4: "Beware of the mullahs. They have to be confronted or they will take over our lives."
Whether those words will turn out to have been a fateful premonition of his death remains to be seen. The man who allegedly killed him claims to have been motivated precisely by the messages of intolerance that are the daily fare of the extremist mullahs whom Taseer opposed.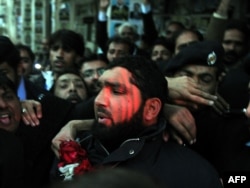 Suspected assassin Malik Mumtaz Hussain Qadri leaves court in Islamabad on January 5.
Pakistani officials say suspected assassin Malik Mumtaz Hussain Qadri, who was a member of the elite police guard force assigned to the governor, killed Taseer over one of the highest-profile disputes between extremists and liberals in the country today: Pakistan's blasphemy law. Qadri reportedly told a television crew from Pakistan's Dunya TV that arrived at the scene of the killing in downtown Islamabad that "I am a slave of the Prophet and the punishment for one who commits blasphemy is death."
Taseer, a leading figure of the ruling Pakistan People's Party (PPP), was adamantly opposed to the country's blasphemy law and its most recent invocation by a Punjabi lower court to sentence a Christian woman to death. The woman, Aasia Bibi, is accused of blaspheming Islam in June 2009 and her case is now before the provincial court in Lahore, which must approve the controversial sentence before it can be carried out.
Taseer helped mobilize support for Bibi by visiting her in prison in November and terming her punishment "cruel."
"I wish to begin with the name of Allah, the most kind and merciful," Taseer told reporters during the visit. "I am here to see Aasia Bibi, who is punished [under the blasphemy laws], which is a harsh and cruel punishment and she has appealed [for mercy] to the president of Pakistan."

Law And Disorder
As Taseer championed efforts to repeal Pakistan's controversial blasphemy laws, he became a direct target for street protests by religious parties. At some, he was burned in effigy. But he showed no sign of backing down.
The governor, who used Twitter to frequently send out updates to his supporters, warned late last month that the efforts to decide Bibi's case by street protests posed a fundamental challenge to the rule of law in the country.
Religious right trying 2 pressurize from the street their support of blasphemy laws. Point is it must be decided in Parliament and not on the road.
He wrote in Twitter shorthand: "Religious right trying 2 pressurize from the street their support of blasphemy laws. Point is it must be decided in Parliament and not on the road."
It is too soon to know today if Taseer was killed by an assassin solely motivated by the blasphemy issue or whether other forces were equally at play. Pakistan's last such high-profile assassination, the 2007 killing of Benazir Bhutto, the then-head of the PPP, remains unsolved in a fog of potential suspects that ranges from Al-Qaeda and the Pakistani Taliban to loyalists of Bhutto's many political rivals.
Pakistani human right groups have condemned the assassination of Taseer as an example of the creeping violence threatening the society but not tried to pre-judge its source.
"It would be exceedingly unfortunate if it turns out that the governor's call for sanity involving the death sentence of Aasia Bibi on charges of blasphemy or differences with political opponents in any way led to his assassination," Zaman Khan, a spokesman for the Human Rights Commission of Pakistan in Lahore, told RFE/RL.
Keeping It Together
But observers can't help but note that Taseer's assassination comes amid a wave of attacks by religious extremists over the past months. Those attacks are claimed by a myriad of Taliban and jihadist groups and have particularly targeted Punjab, the cultural and economic hub of the country.
Taseer in many ways epitomized the Western-leaning values and interests against which the extremists claim to be waging war.
Born in 1946 into an affluent family of intellectuals, he was part of Pakistan's heavily British-influenced, first post-independence generation. He studied at the prestigious St. Anthony School in Lahore and did his higher education in accountancy in Britain.
Politically, he became a supporter of Zulfiqar Ali Bhutto, the PPP's first chairman. That led to his imprisonment when Bhutto was toppled in a 1977 military coup by General Mohammad Zia-ul-Haq. But he returned to politics after the general's death in 1988, winning a seat in the Punjab provincial legislature and going on to become one of the PPP's best-known personalities.
At the same time, he was a highly successful businessman, establishing a brokerage house and a telecom company and becoming a media mogul. He owned the English-language Business Plus news channel in Pakistan and was the publisher of the English-language "Daily Times."
These activities kept him at the frontline of what many see as today's escalating culture war over Pakistan's identity. As religious parties try to rally supporters over cases of presumed blasphemy and as militants attack Sufi and Shi'ite sites as un-Islamic, the larger purpose of the street violence -- say many observers -- is to dismantle Pakistan as a modern state and replace it with a fundamentalist one. And that is exactly why Taseer's embattled supporters see his assassination as such a dangerous loss for the country.
RFE/RL's Radio Mashaal contributed to this report