WATCH: Thousands of mourners gathered for the state funeral of Punjab Province Governor Salman Taseer. (Video by Reuters)By RFE/RL
Family members, friends, officials, and supporters have paid their last respects to the governor of Pakistan's Punjab Province, who was assassinated in the federal capital, Islamabad, on January 4.
Salman Taseer was allegedly
shot dead by one of his own bodyguards
who was reportedly angered by the governor's opposition to the country's controversial blasphemy law.
Speaking in Lahore, Pakistani Interior Minister Rehman Malik announced a multipronged investigation and blamed "a mindset" for the governor's assassination.
"I have deployed top class investigators -- not only police, but there is also [Inter Services Intelligence], the [Intelligence Bureau], and [Federal Investigation Agency], they are all investigating it jointly," Malik said. "Basically, it is a mindset [that caused this]. Hence, we have to understand how and why this mindset was formed."
Taseer's body had been flown home to Punjab's seat of government in Lahore for a state funeral, with thousands of police were deployed in the city to guard key sites and avoid unrest.
Prime Minister Yousaf Raza Gilani joined thousands of sympathizers who thronged outside the Governor's House, where funeral prayers were held.
Taseer's coffin, draped in the green and white Pakistani flag, was then flown by helicopter to a cemetery where it was laid to rest with state honors.
Split In Pakistani Society
Taseer's killing -- the most high-profile assassination since that of former Prime Minister Benazir Bhutto in 2007 -- has shocked Pakistan's elite.
Prime Minister Gilani has announced a three-day period of national mourning and ordered flags lowered to half-staff.
Malik Mumtaz Hussein Qadri (left), Taseer's bodyguard and a suspect in his assassination, shouts after appearing in court in Islamabad on January 5.
"This is a very tragic incident, this murder should not have occurred," an Islamabad physician who was among the many Pakistanis troubled by the assassination told Reuters Television. "Whoever has done this has done it for his own personal reasons. If this trend continues in Pakistan, it will be very bad for our country."
But Taseer's death has been publicly welcomed by many others.
Social-networking sites were deluged with messages of support for Taseer's killer.
Some religious leaders praised the assassin's "courage" and religious zeal and called for a boycott of the ceremonies in Lahore.
The Jamaat-e Ahl-e Sunnat Pakistan group said more than 500 religious scholars from the moderate Barelvi sect of Sunni Muslims had warned that those who oppose the blasphemy law and support those committing blasphemy should learn a lesson from Taseer's death.
Opposed Blasphemy Law
One of Taseer's bodyguards, Malik Mumtaz Hussein Qadri, was detained immediately after the shooting at Kohsar Market in Islamabad.
The suspect has made his first appearance in an Islamabad court, where his arrival was welcomed by supporters throwing rose petals and chanting: "We are ready to sacrifice our lives in the service of the Prophet."
Officials quoted Qadri as admitting he had killed Taseer because of the politician's opposition to the blasphemy law.
Investigators were now trying to determine whether he acted alone or as part of a wider plot.
Taseer, 66, was a moderate, senior member of Bhutto's Pakistan People's Party (PPP) and a close associate of her widower, President Asif Ali Zardari.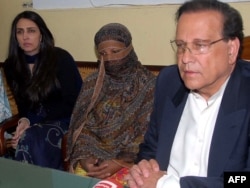 Salman Taseer (right) meets with Aasia Bibi (center), A Christian who was convicted of blasphemy, on November 20.
Taseer was also known as a vocal critic of the rising Islamist militancy in Punjab, Pakistan's most populous and wealthiest province.
Recently, he had spoken out against the country's controversial blasphemy law, which carries the death sentence for anyone who insults Islam.
Taseer had also visited a Christian woman sentenced to death under the blasphemy law in a case that drew wide international attention. Most Pakistani politicians had even declined to comment on Aasia Bibi's case. Taseer had his photograph taken with her and sought to reform the law.
Under pressure from Islamist parties, the ruling PPP has said it would not pursue changes to the blasphemy law, which rights groups say is often used to persecute religious minorities and exploited to settle personal scores.
No one convicted under the law has been executed, but dozens accused have been killed by lynch mobs.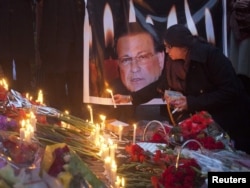 A woman lights a candle next to a photograph of Taseer during a candlelight vigil near the site of his assassination.
Increasing Instability
Taseer's killing also came
amid a deepening government crisis
, with Prime Minister Gilani trying to muster support after a key coalition partner walked out of the federal government.
The leading opposition party, Pakistan Muslim League-Nawaz, has given him 72 hours after the mourning period to accept a list of demands to avert a no-confidence vote.
Taseer's killing has been condemned by the United States, European Union, and United Nations.
U.S. Secretary of State Hillary Clinton described Taseer's death as a "great loss," saying she admired his work to "promote tolerance and the education."

written by Antoine Blua based on agency reports