The governor of Pakistan's central Punjab Province has died after being shot in the country's capital, Islamabad.
Officials said Salman Taseer was killed by one of his own security guards, who was angry about the governor's opposition to the country's blasphemy law.
Taseer was taken to a hospital, where he died from his injuries.
Five other people were reported wounded as security personnel responded to the attack, arresting the suspected assailant.
A witness at the scene told Reuters Television that Taseer was stepping out of his car when he was shot.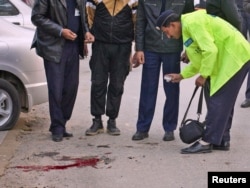 Police survey the site where Taseer was shot.
Waqas Raza, a worker at the shopping center, said the governor fell down and the man who fired at him threw down his gun and raised both hands.
"There was a sound of three bursts. We were working inside; we rushed out to see the man who had been shot lying on the ground. There was blood on the ground," Raza said.
"Then immediately the security forces arrived; there was a security high alert."
Taseer's killing is the most high-profile assassination of a political figure in Pakistan since the 2007 killing of Prime Minister Benazir Bhutto.
Taseer, 56, was a moderate, senior member of Bhutto's Pakistan People's Party (PPP) and a close associate of her widower, President Asif Ali Zardari.
"From our standpoint, [Taseer's] death is a great loss," U.S. State Department spokesman Philip Crowley said in Washington. "He was committed to helping the government and people of Pakistan persevere in their campaign to bring peace and stability to their country."
UN Secretary-General Ban Ki-moon condemned the assassination, calling it a blow to the country. Through a spokesman, Ban called Taseer "a prominent leader whose death is a loss for Pakistan."
'Proud To Kill A Blasphemer'
Taseer was also known as a vocal critic of the rising Islamist militancy in Punjab, Pakistan's most populous and wealthiest province.
Recently, he had spoken out against the country's controversial blasphemy law, which carries a mandatory death sentence for anyone who insults Islam.
Taseer and his family had expressed support for a Christian woman, Aasia Bibi, who'd been sentenced to death for blasphemy.
In a recent interview, Taseer had said Pakistan's blasphemy law was manmade and not God-given, adding that his meeting with Bibi was being politicized by hostile elements.
One of Taseer's own security guards (right) after being apprehended in connection with the fatal attack
Interior Minister Rahman Malik told reporters that the suspect told police he killed Taseer because "the governor described the blasphemy law as a black law."
And an intelligence official interrogating the suspect, identified as Mumtaz Qadri, told the Associated Press news agency that the guard said he was proud to have killed a blasphemer.
Under pressure from Islamist parties, the ruling PPP has said it would not pursue changes to the blasphemy law, which rights groups say is often used to persecute religious minorities and exploited to settle personal scores.
No one convicted under the law has been executed, but dozens accused have been killed by lynch mobs.
Taseer's killing comes as Prime Minister Yousaf Raza Gilani
tries to muster support for the government
after a key coalition partner walked out of the federal government.
Gilani announced a three days of national mourning and called on PPP supporters "to remain calm" to allow a proper investigation.
A longtime member of the Punjab provincial assembly, Taseer was appointed governor in 2008.
compiled from RFE/RL and agency reports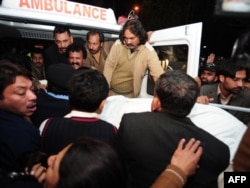 Activists from Pakistan's People's Party place Taseer's body into an ambulance in Islamabad.