A senior provincial minister in Pakistan has claimed that the biggest political party in Karachi is behind a wave of violence in the city and accused its leader of being a killer.
The explosive allegations were made at a televised press conference August 28 by Zulfiqar Mirza, who also resigned from his post as minister in southern Sindh Province.
Holding a Koran and claiming to "only speak the truth," Mirza accused the powerful Muttahida Qaumi Movement (MQM) of being behind the violence that has claimed the lives of more than 800 people this year alone. He said its leader, Altaf Hussain, was a killer who headed a terrorist organization:
Mirza's allegations raise concerns about further violence in the southern seaport, where hundreds have died in targeted assassinations and street battles in recent weeks.
Mirza's earlier diatribe against the MQM in July led to violence in Karachi, which serves as Pakistan's major seaport and commercial hub.
Observers expect more reaction to the allegations on the streets of Karachi. Pakistan's biggest city of 18 million people is the country's economic hub but has long been plagued by violence.
'Criminal Turf Wars'
Most of the violence is apparently motivated by ethnic and political grievances. But observers accuse the major political parties including the MQM, the ruling Pakistan Peoples Party (PPP), and the Pashtun-based Awami National Party of patronizing criminal gangs to win turf wars and accumulate resources.
Most of Mirza's accusations targeted the MQM. He accused this political party of kidnapping, extortion, and violence that has killed more than 400 people since July.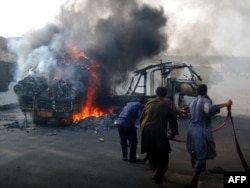 Firefighter extinguish burning vehicles in a troubled area of Karachi, which has been wracked by violence in recent months
Mirza claimed that the party ordered the high-profile killing of journalist Wali Khan Babar earlier this year.
"I am openly saying that MQM got [Wali Khan Babar] killed," he said. "We arrested five killers and interrogated them jointly [through various investigative agencies]. One of their killers is Liaqat whose name I am revealing today [August 28]. He is still missing. He is a very important link in the [murder investigations] because his car was used and he fired on the victim."
Mirza, a former senior leader of the ruling Pakistan People's Party (PPP), resigned from the party's leadership position. He also called federal Interior Minister Rehman Malik a "compulsive liar" and accused him of aiding MQM's violence.
He questioned Malik's patriotism and said that he will be responsible "if Pakistan is harmed in the future."
Mirza, who had been the interior minister of southern Sindh province for three years, accused Malik of constantly conspiring with the MQM to stop him from curbing the violence in Karachi.
The MQM in turn accused Mirza of attempting to foment more violence in Karachi.
"Zulfiqar Mirza was aiding and abetting killers, terrorists, kidnappers, dacoits [robbers] and other criminals involved in heinous offences," the party said in a statement.
Malik, however, attempted to play down Mirza's comments and called him a "brother."
with agency reports