QUETTA, Pakistan -- Bakht Bibi was a normal mom who did all the usual mom things. She ran errands, she cleaned, she prepared meals. She "cooked everything," recalled one relative admiringly. She smiled a lot.
So on September 7, the cheerful mother of two piled her kids into a rickshaw in Pakistan's bustling city of Quetta for a routine trip to the hospital 7 kilometers away.
It's likely that the kids, 3-year-old Shamim and his cousin, 4-year-old Alam, were excited as they clambered aboard. Their uncle, Sultan Shah, had given them 10 rupees each! What to spend it on?
But the family never reached the hospital. A suicide bomber, targeting the house of a senior security official, detonated his explosives in his vehicle just as Bakht Bibi's rickshaw passed by.
"They were here for Eid greetings [a Muslim feast] and went to hospital for a check-up," relative Hafiz Mujeeb told RFE/RL's Radio Mashaal the day of the tragedy.
"She and her two children died in the blast. Her nephew was also killed, while her brother, sister-in-law, and their daughter are being treated in the hospital."
The bomb that took theirs and other innocent lives was detonated outside the home of local officer Brigadier Khurram Shahzad, the deputy head of the region's Frontier Corps. A second attacker then launched a grenade attack before detonating his explosives in Shahzad's home.
At the scene of the blast, RFE/RL witnessed a pick-up truck and a car in flames, as well as human limbs scattered around the area.
Shahzad survived the attack, claimed by the Taliban, which left more than 20 people dead and about 80 others injured.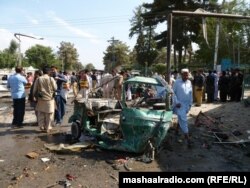 A destroyed rickshaw at the scene of the initial Quetta blast on September 7.
The attack drew widespread condemnation, including from UN Secretary-General Ban Ki-moon.
"We condemn this inhuman act, one that should not be carried out," local Quetta elder Haji Abdul Karim told RFE/RL. "The victims were going to hospital for treatment, and died there."
Scores of mourners, meanwhile, gathered outside the house of Bakht Bibi's brother, Muhammad Daud, to express their condolences. Daud was also in the rickshaw at the time of the attack and was wounded by the blast. His 4-year-old son, Alam, lay dead, and his 6-year-old daughter and wife were left seriously injured.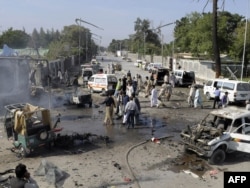 Pakistani security officials examine the site of the coordinated Quetta attacks.
Other members of Bakht Bibi's family are still struggling to recover.
Sultan Shah, the uncle who gave his nephews 10 rupees before they headed out the door, choked back his tears.
"This monster killed them," Shah said. "I am living here. She was my only sister."
Bakht Bibi was "really a happy woman," he said. "She was religious and full of joy at the birth of her first daughter, Farida."
He recalled that "she smiled often when she was with her daughter," playing with her at home.
The last thing Bakht Bibi said to him, he said, was, "We are going to the hospital for a check-up and will return soon.'"
written in Prague by Kristin Deasy based on reporting from Quetta by Khudai Noor Nasar