WASHINGTON -- U.S. Senator John Kerry (Democrat-Massachusetts) knew what he was in for.
The chairman of the Senate's Foreign Relations Committee had just sat down to call to order a hearing on May 5 on the U.S. relationship with Pakistan -- a relationship described by some lawmakers, even before the killing of Osama bin Laden in nearly plain sight on Pakistani soil, as Washington's most complex.
"I am coming straight from the dentist's chair to a hearing on Pakistan," Kerry announced. "Is there a parallel?"
The comment generated a few laughs and provided a fleeting moment of lightness in a hearing that guaranteed an array of tough questioning.
Here is Kerry, revisiting the U.S. raid that killed the Al-Qaeda leader after a nearly decade-long hunt:
"Who did they think was living behind those 15-foot walls? Was there any level of curiosity?" Kerry asked. "How could bin Laden have gone undetected living next door to Pakistan's equivalent of West Point, where just last week [Chief of Army Staff] General [Ashfaq] Kayani gave a speech celebrating the Pakistani military's breaking the back of terrorism?"

Dominating Headlines
These and similar questions on the resolve of Pakistan to root out terrorists in its midst are not just circulating among lawmakers, but dominating newspaper headlines, TV news shows, and water-cooler conversations in America.
It is members of Congress, however, who must confront the issue of how to recalibrate Washington's policy toward Islamabad.
Kerry, in expressing shock at Islamabad's failure in dealing with bin Laden, was also quick to follow the tack taken by U.S. President Barack Obama when he first announced the terrorist leader's death on the night of May 1. Despite glaring failings, Kerry said, Islamabad has been an important partner in the war on terrorism, helping to kill top Al-Qaeda operatives in the past and providing key intelligence.
But while he and other senators concurred that U.S. engagement with Pakistan must remain robust, it didn't take long for the question of aid to arise.
Some members of Congress have suggested that Washington should consider cutting the $3 billion in annual aid it sends to Pakistan if it turns out that Islamabad knew where bin Laden was hiding.
Others have proposed suspending aid payments until the government of President Asif Ali Zardari provides answers.
For fiscal year 2012, the White House has requested an additional $2.3 billion, specifically to help Islamabad fight terrorism.
'Tantamount To Giving Up'
Among those testifying at the hearing was Moeed Yusuf, a Pakistani native and the South Asia adviser at the United States Institute of Peace, a congressionally funded think tank in Washington.
He said scrapping aid would be "tantamount to giving up on Pakistan" and suggested that some aid be made contingent upon Islamabad meeting benchmarks for better governance and fiscal policy.
He conceded, however, that aid did not appear to be helping America's reputation with Pakistanis and said no amount of money will be able to change Islamabad's strategic mindset or soothe internal tensions.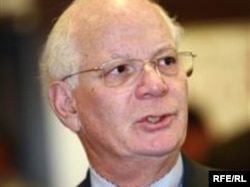 U.S. Senator Benjamin Cardin: "We have to be prepared to cut off aid."
Senator Benjamin Cardin (Democrat-Maryland) responded that aid cuts must be considered.
"Under those circumstances, we have to be prepared to cut off aid -- or at least to suspend aid if the conditionalities are not being met," Cardin said. "And we have a responsibility to the taxpayers of this country. We have to make some tough decisions in our budget. And quite frankly, there is concern as to whether the value is being properly used as it relates to Pakistan. Of course, the bin Laden issue just puts a big spotlight on that."
The hearing took place as reports emerged that Islamabad -- fearful of Washington's dollars drying up, and aware of the growing perception that Pakistan sheltered bin Laden -- has dispatched a team of lobbyists to Congress to argue its case.

Pushing The 'Reset' Button?
While the issue of how to respond to Pakistan's failings -- and U.S. failings in its Pakistan policy -- dominated the hearing, senators did entertain the possibility that the killing of bin Laden could perhaps lead to progress in relations.
Could bin Laden's death, Kerry asked, lead to "the pushing of a reset button" and the expansion of "the better side of the [U.S.-Pakistani] relationship"?
Michael Krepon, a South Asia expert who testified at the May 5 hearing, said it now might be easier for Pakistan -- and expedient for its relations with the United States -- to go after Ayman al-Zawahri.
"The No. 2 Al-Qaeda guy may still well be in Pakistan, and I think this is a real good opportunity for Pakistan's security apparatus to be of assistance in this regard," Krepon said.
Cardin put a similar question to the United States Institute of Peace's Yusuf: If Pakistanis see terrorists as a threat to their sovereignty, as much or more so than U.S. drone strikes and the raid that killed bin Laden, could the Al-Qaeda leader's death be read by the people as something beneficial to their own lives?
"The onus of changing the narrative in Pakistan on extremism lies with the Pakistanis," Yusuf said. "We can only help, but it is them that have to do this. The problem in some ways now has become that the popular sentiment is so charged and so anti-American, unfortunately, that it becomes very difficult politically for a weak government to come out and make this case. So while I completely agree with you -- I think there is an opportunity -- we should be careful not to expect too much of it either."