The commander of U.S. and NATO troops in Afghanistan has told a Senate committee that NATO forces have largely succeeding in halting the momentum of the Taliban and that U.S. plans to begin withdrawing troops in July remain on schedule.
But in his first testimony before Congress since he took command last year, U.S. General David Petraeus also warned the Senate Armed Services Committee that gains by the International Security Assistance Force (ISAF) are not solidified and could still be reversed.
"It is ISAF's assessment that the momentum achieved by the Taliban in Afghanistan since 2005 has been arrested in much of the country and reversed in a number of important areas," Petraeus said. "However, while the security progress achieved over the past year is significant, it is also fragile and reversible."
The scheduled start of American troop withdrawals is part of President Barack Obama's year-old revamped counterinsurgency strategy, which calls for military involvement to continue through 2014 as Afghan forces are simultaneously trained to take over security responsibilities.
In several Afghan provinces, that transfer can begin within a few months, Petraeus told the committee.
But he also told lawmakers that "much difficult work lies ahead" for NATO and its Afghan partners as an expected Taliban spring offensive approaches.
Endemic Obstacles?
In addition to the fierce resistance shown by the Taliban in the face of Obama's stepped-up counterinsurgency strategy, progress in the 10-year-old war is being hindered by what is seen as a corrupt and inefficient central government in Kabul and the continued use by insurgents of safe havens in Pakistan.
Petraeus said NATO is now coordinating "more closely than ever" with the Pakistani Army to defeat Taliban insurgents who try to cross the border, known as the Durand Line.
NATO troops, he said, "will provide the anvil on the Afghan side" of the line.
"We have positioned more forces as well to interdict the flow of fighters and explosives from insurgent sanctuaries in Pakistan, and we will do further work with our Afghan partners to establish as much of a defense in depth as possible to disrupt infiltration of Taliban and Haqqani network members," Petraeus added.
Islamabad has been reluctant to move into insurgent strongholds in North Waziristan, where senior Al-Qaeda members, including Osama bin Laden, are thought to be hiding.
Washington 'Caution'
During the hearing, senators from both parties acknowledged that NATO's success in Afghanistan is far from assured, with the chairman of the committee, Carl Levin (Democrat-Michigan), saying that the mission hinges on the ability of Afghan security forces to hold the ground that they and NATO forces have cleared.
Levin said as many as 70,000 additional Afghan police and troops are needed to get that job done.
Senator John McCain, the senior Republican on the committee, said he believes the U.S. and its allies "are turning around the war in Afghanistan."
But he also said that Washington needs to be "extremely cautious" about starting a withdrawal of U.S. forces this summer.
"Perhaps the wisest course of action in July may be to reinvest troops from more secure to less secure parts of Afghanistan where additional forces could have a decisive impact," McCain said. "In short, we should not rush to failure, and we should cultivate strategic patience."
Civilian Deaths
In his testimony, Petraeus also addressed the increasingly sensitive issue of civilian casualties caused by NATO air strikes.
In the worst recent incident, nine children collecting firewood in eastern Afghanistan were killed on March 1. In response, Afghan President Hamid Karzai declared that "poor and innocent civilians...have continued on [a] daily basis to suffer in the unjustifiable operations and bombings carried out by NATO."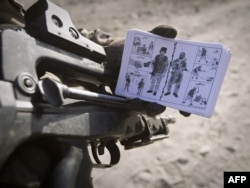 A French soldier holds up leaflets to be distributed to local villagers showing the difference between ISAF soldiers and insurgents, during a patrol near Tagab in Kapisa Province, Afghanistan, in January.
NATO-led forces have significantly tightened rules governing air strikes and night raids in the past two years, which has led to a drop in civilian casualties from coalition actions. But deaths are still relatively frequent and highly sensitive.
Petraeus apologized personally to Karzai for the children's deaths and, in an unusually contrite statement before meeting with the Afghan leader, he said, "We are deeply sorry for this tragedy and apologize to the members of the Afghan government, the people of Afghanistan and most importantly, the surviving family members of those killed by our actions."
But Karzai told Petraeus that his apology for the strike was "not enough" and said civilian casualties by foreign troops were "no longer acceptable" to the Afghan government or people.
Petraeus told the Senate committee on March 15 that he has ordered a review of how attacks are ordered and carried out.
"In view of several tragic incidents in recent weeks, I ordered a review of our tactical directive on the use of force by levels of our chain of command and with the air crews of our attack helicopters," Petraeus said. "However, I also re-emphasized instructions on reducing damage to infrastructure and property to an absolute minimum. Counterinsurgents cannot succeed if they harm the people they are striving to protect."
Last year was the most lethal for noncombatants since the Taliban was ousted from power in 2001, with a 15 percent rise in civilian casualties to 2,777, according to a report by the United Nations last week. The report said insurgents were responsible for three-quarters of the deaths.
Petraeus also testified before the Senate Foreign Relations Committee on March 15, but that hearing was classified "top secret" and closed to the press.
with additional agency reports