HRODNA, Belarus -- Three men and a woman in police uniform have raided the apartment of a Belarusian political opposition activist in the western city of Hrodna, RFE/RL's Belarus Service reports.
Danila Klyauko, a member of the opposition United Civic Party, told RFE/RL that the four people refused to present a search warrant to him. One of them had a video camera and filmed the search procedure.
Klyauko said the visitors did not find anything except a flyer calling for people to vote for Uladzimer Nyaklyaeu in the now-disputed December 19 presidential election.
Nyaklyaeu is currently in jail charged with organizing an illegal public gathering on December 19-20 after it was announced that incumbent Alyaksandr Lukashenka had been reelected.
Klyauko added that the intruders brought two witnesses with them and asked him to sign some papers after the search.
After the four left, Klyauko went to the city police department and asked why his apartment had been searched. Police officials told him they checked all police stations in the city and found out that no police had been sent to his apartment to conduct a search.
Klyauko said police officials told him a criminal case will be launched into the incident and asked him to look through several dozen photos to see if he could recognize the people who had searched his home.
Read in Belarusian
here
Special Page: Belarus Crackdown
Crackdown In Belarus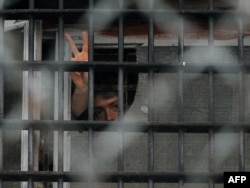 A special page devoted to coverage, views, and multimedia features on authorities' response to public doubts about Belarus's presidential election.
Click here