Bosnia-Herzegovina faces a major political crisis. Some are questioning whether the country could dissolve again into chaos and ethnic violence.
For Episode 18 of "The Blender," our New York correspondent, Nikola Krastev, sits down with the international community's man in the middle of it all, Valentin Inzko. The high representative for Bosnia-Herzegovina gives his perspective on the situation and what needs to be done.
In Belarus, dozens of opposition rights activists and former presidential candidates are on trial. They face a variety of charges related to the violence that erupted after the country's disputed December 19 presidential election.
RFE/RL's Belarus Service is following the proceedings closely. Correspondent Alyaksey Znatkevich talks about the trials and what passes for justice these days in Minsk.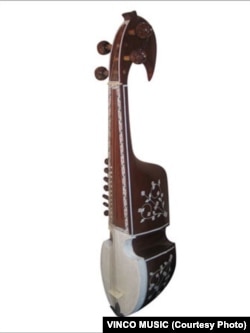 Even though times are hard in Belarus, people still find reasons to laugh. In fact, one of the biggest reasons is the country's hard-line and humorless president, Alyaksandr Lukashenka, himself. In our "Inside Joke" segment, we share the political punch lines that are floating around among Belarusians these days.
And in "A Different Beat," correspondents Ron Synovitz and Mustafa Sarwar introduce us to the rabab (right), an ancient instrument similar to a sitar. The rabab was played for our correspondents by a master musician in the Afghan capital, Kabul.
We get a lesson on its sounds and construction, with a little music theory thrown in. One of the songs the master performs is used everyday to introduce radio broadcasts for RFE/RL's Radio Free Afghanistan.
This week's host is
Bruce Jacobs
.
Listen to or download the episode below or
subscribe to "The Blender" on iTunes
. For previous episodes,
click here
.
RFE/RL's The Blender -- 5/13/11 (Episode 18)