In this week's episode, we present highlights from our exclusive interview with former U.S. Defense Secretary Donald Rumsfeld.
On the heels of Rumsfeld's recently released memoir, "Known And Unknown," writer at large
Jamie Kirchick
spoke with him about the decisions involved in the Iraq and Afghan wars, his views on the U.S. response to the 2005 massacre in the Uzbek city of Andijon, and many other topics.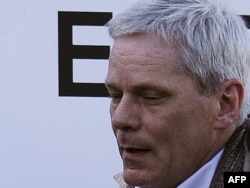 Kristinn Hrafnsson
A transcript of the full interview with Rumsfeld can be found
here
.
Correspondent
Kristin Deasy
interviews Kristinn Hrafnsson, the spokesman for the controversial whistle-blowing website WikiLeaks. Hrafnsson responds to criticism about his organization's own lack of transparency and defends WikiLeaks' methods and goals.
Uzbek state television recently declared war on rock 'n' roll and rap music. A documentary called "Melody And Calamity" says this "satanic music" was created by evil forces to degrade young people in Western countries. Our Central Asian correspondent,
Bruce Pannier
, turns up the volume on this story.
And in our regular "Uncovered" segment, we sit down with
Pete Baumgartner
and
Merkhat Sharipzhan
, the editors of the
"From Our Bureaus"
desk, to discuss significant stories from our broadcast region that aren't getting their due in the Western media.
This week's host is
Bruce Jacobs
.
Listen to or download the latest episode of "The Blender" below or
subscribe to "The Blender" on iTunes
. For previous episodes of "The Blender,"
click here
.
RFE/RL's The Blender -- 3/18/11