This week, The Blender is dedicated to dictators.
Despots, tyrants, strongmen. Is there a unifying characteristic inherent to every autocratic leader? Behind the escapades of Muammar Qaddafi, the malaproposims of Alyaksandr Lukashenka, the parades of Kim Jong Il, are we losing sight of the plight of real people living under oppressive regimes?
"The Dictator's Handbook: Why Bad Behavior Is Almost Always Good Politics," a new book by New York University professors Bruce Bueno de Mesquita and Alastair Smith, offers "a crash course in taking and holding on to power that any dictator, CEO, or president should take to heart."
Grant Podelco
speaks with Alastair Smith.
Blender host
Pavel Butorin
speaks with Golnaz Esfandiari, RFE/RL's Washington correspondent covering Iran, about President Mahmud Ahmadinejad's visit to the United States, which was preceded by some
positive press
courtesy of the U.S. media.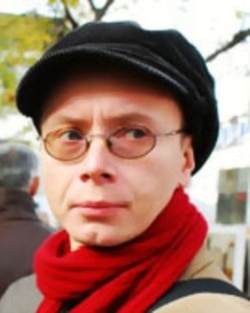 Pavel Butorin
As Ahmedinejad spoke at the UN General Assembly, two U.S. citizens who had been imprisoned in Iran on espionage charges were released. What was the message that Ahmadinejad was trying to get across at the UN and how is his media campaign working out?
Episode 37 of The Blender features the song "Losing My Religion" by R.E.M. The band announced its breakup just a few days ago. A statement on the band's website said: "We walk away with a great sense of gratitude, of finality, and of astonishment at all we have accomplished. To anyone who ever felt touched by our music, our deepest thanks for listening."
We thank R.E.M for our theme song, "Radio Free Europe."
Got a question or comment about "The Blender"? Send your feedback to
podcast@rferl.org
or leave a comment below. We'd love to hear from you.
Listen to or download Episode 37 of "The Blender" below or
subscribe to "The Blender on iTunes
. For the complete "Blender" archive,
click here
.
This One Goes Out To The Dictators (Episode 37)