The dramatic events in Libya dominated the news this week.
In Episode 33 of "The Blender," we talk about the future of that North African country with correspondents Abdelilah Nuaimi and Nabil Ahmed of RFE/RL's Radio Free Iraq. They give their perspectives on the rebel's political leader, Mustafa Abdel Jalil, and the challenges he faces stabilizing and rebuilding Libya.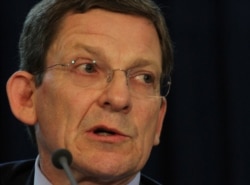 Marc Grossman
We have a discussion on extremism with the U.S. special envoy to Afghanistan and Pakistan, Marc Grossman. The interview was conducted by the Voice of America's Lina Rozbih. They talked about the future of Al-Qaeda and the Haqqani network to India-Pakistan relations and the recent instability in Afghanistan as the United States begins to draw down its troops.
And RFE/RL's Radio Mashaal, which covers Pakistan, reports on the Taliban's destructive legacy in that country's Swat Valley. In the years that they controlled the area, the Taliban did lasting damage to women's rights and the area's musical culture.
This week's host is
Bruce Jacobs
.
Got a question or comment about "The Blender"? Send your feedback to
podcast@rferl.org
or leave a comment below. We'd love to hear from you.
Listen to or download Episode 33 of "The Blender" below or
subscribe to "The Blender on iTunes
. For the complete "Blender" archive,
click here
.
Libya: What Now? RFE/RL's "The Blender" (Episode 33)