Pronunciation was on The Blender's mind this week as U.S. presidential hopeful Herman Cain came face to face with a country whose name -- Uzbekistan -- he couldn't say and whose president -- Islam Karimov -- he couldn't remember.
We here at The Blender know all too well the challenges of pronouncing names like Mahmud Ahmadinejad and Gurbanguly Berdymukhammedov, as we make clear with a first-ever Blender blooper reel.
But while Uzbekistan might be hard to say, is it "insignificant," as Cain alleges? Correspondent Charles Dameron looks at Uzbekistan's rising role as a strategic U.S. partner -- and remembers a few other pronunciation mishaps uttered on behalf of U.S. foreign policy.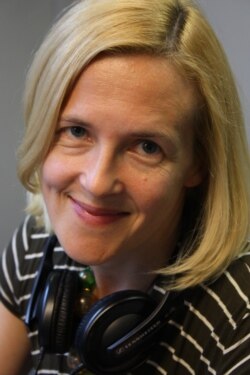 Daisy Sindelar
We also travel to Russia's Volga River city of Rybinsk to visit Aleksandr Zverkov, a once-celebrated television news anchor who now sells trolleybus tickets for a living after a critical report on garbage disposal angered the city's mayor -- and brought Zverkov's journalism career to an abrupt end.
The story is part of a
six-part RFE/RL series
on the Russian media that you can find on our website.
It's not just local journalists who come under pressure in Russia. Producer Pavel Butorin speaks to "The Guardian" newspaper's former Moscow correspondent Luke Harding, who was harrassed and eventually expelled from Russia for citing WikiLeaks cables referring to the country as a "virtual mafia state." Harding's just published a book about his experiences, the appropriately titled "Mafia State."
The Blender also talks to the first female head of state in the Balkans -- Kosovo President Atifete Jahjaga, who visited RFE/RL's Prague headquarters earlier this week. Jahjaga speaks to Gordana Knezevic, the head of our Balkans Service, about efforts to bring her 3-year-old country closer to the West and the continuing standoff with Serbia over the Serb-majority provinces in northern Kosovo.
This week's host is
Daisy Sindelar
.
Music used on this week's show includes "Fustani" by Nenad Vadilic and Armend Xhaferi; "Die Moritat von Mackie Messer" by Kurt Gerron; and "Tungi Hayot" by Shoxrux.
Got a question or comment about The Blender? We'd love to hear from you.
Click here
to send us your feedback or leave a comment below.
Listen to or download Episode 40 of The Blender above, or
subscribe to The Blender on iTunes
. For the complete Blender archive,
click here
.