Antigovernment protests are continuing in Cairo's Tahrir Square today for a 17th day amid reports of strikes and violence in other parts of the country.
Hundreds of protesters are also camped outside the parliament building as protesters spread out from the square, which has become the epicenter of the antigovernment demonstrations.
Protesters are calling for the immediate resignation of long-serving President Hosni Mubarak on February 9 and have threatened to block the parliament if he doesn't step down soon.
Egypt's parliament is dominated by Mubarak's ruling National Democratic Party.
'As Long As It Takes'
Egyptian author Ghada Abdel Aal was among those gathered in the square in protests on February 9. She told RFE/RL that the atmosphere was "like a festival, or carnival" with groups of families, including young children, taking part.
"People were meeting each other and talking in small groups, or just walking around and seeing what is it like to be in the middle of a revolution or something," she said.
"Lots of my friends have this opinion: that they will stay [in Tahrir Square] as long as it takes until Mubarak leaves."
Elsewhere, some 8,000 farmers set up makeshift barricades of flaming palm trees in the southern province of Assiut, blocking the main highway and railway to Cairo. They were protesting the lack of bread.
In the Suez Canal city of Port Said, hundreds of slum dwellers set fire to part of the governor's headquarters in anger over lack of housing.
Unconfirmed reports say at least one person was killed and many others injured in clashes between police and demonstrators in the New Valley region, about 500 kilometers south of the capital.
Human Rights Watch has estimated that more than 300 people have been killed since protests began on January 25.
Protests Spread
Protesters gather outside the parliament building in Cairo.
In an apparent bid to win the support of the powerful unions, many protesters in Cairo have called for labor strikes.
Some 6,000 workers went on strike at the Suez Canal, a key transport route connecting the Mediterranean and the Red Sea.
And protests continued in other cities, including in Egypt's second city of Alexandria, where protester Mohammed al-Khawli said they would stand firm until their demands were met.
''Nothing has been achieved yet. These protests continue because nothing has been achieved," al-Khawli said.
"When all the members of this regime leave, when all of them have been changed, then we can say we achieved something.''
Antigovernment activists also urged supporters to expand their protests out to other parts of Cairo. The Associated Press reported that they called for another "protest of a million" for February 11.
U.S Stepping Up Pressure
The United States, meanwhile, increased pressure on Egypt to speed up political change.
White House spokesman Robert Gibbs said Washington is waiting for "real concrete" moves to speed up the transfer of power from Mubarak.
U.S. President Barack Obama reinforced that message in a phone call with King Abdullah of Saudi Arabia. In the call, Obama emphasized the need for "immediate steps toward an orderly transition that is meaningful, lasting, legitimate, and responsive," according to the White House.
Ben Rhodes, a deputy national security adviser, said Egypt had done much but needs to do more.
"[We've] seen a number of steps taken already just in the last period of several days that constitute a degree of change from the situation two weeks ago, [and] that is not insignificant," Rhodes said. "That said, it still clearly does not meet this threshold of entering into a meaningful and irreversible set of steps in terms of transition to a more democratic Egypt."
Egypt's foreign minister rejected Washington's input, and said the White House seemed to be trying to impose its will on Cairo.
Speaking to the U.S. PBS TV network's "NewsHour" program, Foreign Minister Aboul Gheit said that the stepped-up U.S. pressure was "not at all" helpful.
Earlier, UN Secretary-General Ban Ki-moon called for the Egyptian government and people to enact an "orderly and peaceful" transition, "the sooner, the better." Ban, however, stopped short of calling on Mubarak to resign.
'We Can't Bear It Much Longer'
Speaking to newspapers editors on February 8, Vice President Omar Suleiman said the government couldn't bear protests for long. "There must be an end to this crisis as soon as possible," he said.
Suleiman said the government would want to resolve the situation through negotiations and that it didn't "want to deal with Egyptian society with police tools."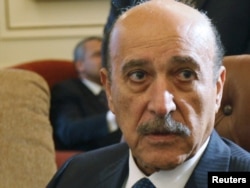 Vice President Omar Suleiman has warned of dire consequences if talks fail.
The Egyptian vice president, however, said if the negotiations failed, a coup and greater chaos would be the alternative.
He also suggested Egypt was not ready for democracy and said a government-formed panel of judges, dominated by Mubarak loyalists, would soon recommend its own constitutional amendments.
Suleiman held a round of negotiations with representatives of the Tahrir Square protesters and opposition groups, including the Muslim Brotherhood, over the weekend but those talks ended without a breakthrough.
written by Farangis Najibullah and Heather Maher, with agency reports