Antigovernment protests have spread across Libya -- from the border with Egypt in the east to the border with Tunisia in the west -- amid further indications that the structure of Muammar Qaddafi's regime is on the verge of collapse.
While a ban on the entry of foreign journalists into the western part of the country has complicated the reporting of events, reporters heading into Libya today from the eastern border with Egypt have confirmed that the east of the country is now under the control of protesters and antigovernment militia.
Journalists traveling from Egypt to the eastern cities of Tobruk, Benghazi, and Aj Dabiya confirmed that anti-Qaddafi forces were in control of the entire area and were flying the red, black, and green flag of the Libyan monarch that Qaddafi overthrew in a September 1969 coup d'etat.
Antigovernment forces now also claim control of Misurata, some 225 kilometers away from the capital, Tripoli, and the largest city in the western half of the country to fall into the opposition's hands.
The gains come despite a furious speech delivered by Qaddafi on February 22 in which the embattled president showed no indication of stepping down.
He pledged to "fight to the last drop of blood" and called on his supporters to "cleanse" Libya of protesters "house by house."
Foreign governments, meanwhile, continue operations to evacuate their citizens from Libya, one of the world's top oil-producing states, responsible for some 2 percent of world supply.
Turkey says it is carrying out the biggest evacuation in its history to protect an estimated 25,000 Turkish workers there, while the European Union says its member states are taking steps to evacuate some 10,000 EU citizens. China, India, and the United States are also attempting to evacuate thousands of their nationals.
Clinging To Tripoli

Gunfire has been heard in the capital as pro-Qaddafi forces -- bolstered by the presence of foreign mercenaries -- roamed the streets. Many residents of the city have taken to their houses and mosques in fear of pro-Qaddafi forces opening fire indiscriminately.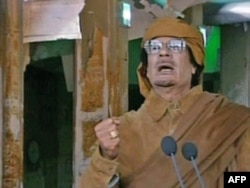 Libyan leader Muammar Qaddafi speaking on state television on February 22 in Tripoli.
Residents describe the foreign mercenaries as black Africans who speak French -- leading to speculation that they are from Chad.
According to "The New York Times," hundreds of additional pro-Qaddafi forces were reportedly moving to the capital to reinforce his control.
The online "Quryna" newspaper reports that the Libyan army deployed a "large number" of soldiers in Sabratah, about 80 kilometers west of the capital, after protesters there destroyed most of the security services offices.
Qaddafi's regime admits that at least 300 people have been killed so far in efforts to put down the street protests. The International Federation for Human Rights said more than 600 have been killed. Italian Foreign Minister Franco Frattini told the parliament in Rome that estimates of about 1,000 deaths are "credible."
"We are faced with a situation that is certainly grave, that was made even more serious by the intent expressed by Qaddafi in his televised speech last night, his will to strike his own people, provoking the situation of a civil war among different areas, regions, and provinces of that country, where you have armed groups fighting each other, where you have armed bands and death squads raiding the land," said Frattini. "On top of all this, the tragic toll will be, in any case, a bloodbath."
PHOTO GALLERY: The Street Art Of Muammar QaddafiSanctions Considered
With Qaddafi clinging to Tripoli and the death toll mounting, the EU and the U.S. announced on February 23 that they were considering imposing sanctions against the regime in an effort to stem the violence.
At a meeting of EU diplomats in Brussels, France and Germany pushed for the bloc to adopt restrictive measures against the Qaddafi government, including possible travel restrictions, an arms embargo, and asset freezes.
The diplomats agreed to explore the measures and will decide at a later date when they might be imposed.
In Washington, U.S. President Barack Obama said that "the suffering and the bloodshed is outrageous and it is unacceptable."
"I've also asked my administration to prepare the full range of options that we have to respond to this crisis. This includes those actions that we may take and those we will coordinate with our allies and partners, or those that we'll carry out through multilateral institutions," Obama said.
"Like all governments, the Libyan government has a responsibility to refrain from violence, to allow humanitarian assistance to reach those in need, and to respect the rights of its people," Obama added. "It must be held accountable for its failure to meet those responsibilities and face the cost of continued violations of human rights."
Obama said he would send Secretary of State Hillary Clinton to Geneva for a meeting of the UN Human Rights Council to coordinate a response with allies.
Some in Washington have criticized Obama for not speaking out sooner against Qaddafi's crackdown, but U.S. officials say they have tempered their response to ensure that thousands of U.S. citizens in Libya can be safely evacuated.
Earlier in the day, State Department spokesman Philip Crowley would not rule out efforts to establish a "no-fly" zone to prevent Libyan aerial attacks against protesters but acknowledged that the international process involved would be challenging.
Libya's deputy UN ambassador, Ibrahim al-Dabashi, who broke with Qaddafi's regime earlier this week, had requested ahead of a UN Security Council meeting on February 22 that the body impose a "no-fly" zone.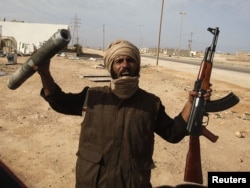 A protester in Tobruk shows a mortar shell used by troops loyal to one of Qaddafi's sons to destoy a munitions store.
He also said that Qaddafi's television speech reveals a desperate leader who is calling for acts of genocide from his supporters by equating the protesters with "rats" and "cockroaches" that must be exterminated.
Defections Mounting

Dabashi is one on a growing list of high-level defections from the Qaddafi government in recent days.
The latest sign of crumbling support involves a senior Libyan official and aide to the Libyan ruler's son, Saif al-Islam Qaddafi, who announced his resignation today.
On February 22, Qaddafi's interior minister, Abdel Fattah Younis, announced his resignation and urged the country's armed forces to join the revolt.
Speaking from opposition-held Benghazi, where the protests began on February 17, Younis said antigovernment demonstrators had the backing of army troops who have defected.
Unconfirmed reports from opposition sources said two air force pilots jumped from their fighter planes by parachute as they refused to carry out orders to bomb Benghazi.
A Reuters correspondent in Tobruk interviewed military officers who were still wearing their uniforms but no longer declaring allegiance to Qaddafi. Those troops also said the eastern part of Libya was no longer in the hands of Qaddafi's regime.
In the city of Al Bayda, AFP quoted local residents who said militia fighters loyal to Qaddafi had been executed there in recent days.
Maha Azzam, an expert on the Middle East and North Africa at London's Chatham House, told RFE/RL that he foresaw an opposition victory.
"Once this whole process of protest has started, it's going to be very difficult to roll it back, and we're going to see possibly increased violence for some time. However, I think as Qaddafi himself feels more cornered, the regime will collapse in on itself," he said. "Eventually, those voices of opposition will emerge that can take Libya forward."
Exodus From Libya

Tens of thousands of foreign workers remained stranded in Libyan airports -- forcing the United States and other countries to seek evacuation of its citizens by sea.
Turkey evacuated some 3,000 of its 25,000 citizens in Libya on February 23 by using two ships that sailed from the port of Benghazi. The United States called for its citizens to leave aboard a government-chartered ferry at the As-Shahab port in Tripoli.
Britain said it was redeploying a warship, the "HMS Cumberland," off the Libyan coast for a possible seaborne evacuation of British citizens stuck in the country.
Italy's Frattini said he fears "an exodus of biblical proportions" from Libya -- a wave of up to 300,000 refugees sweeping into Italy -- if Qaddafi's regime collapses.
The United Nations refugee agency said it was "imperative" for neighboring Tunisia and Egypt to keep their borders open to thousands who are fleeing the upheaval.
Oil prices also continued to soar. Libya is the first major oil exporter to be hit with the political turmoil that has spread across the Arab world in recent weeks.

written by Ron Synowitz and Richard Solash, with agency reports