Syrian Opposition Groups Agree To Abide By Truce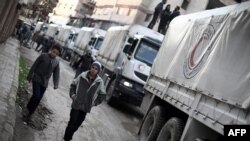 Syria's main opposition grouping and the Syrian Kurdish group YPG say they will follow a U.S.-Russian brokered cease-fire.
The High Negotiations Committee, which includes several main Syrian opposition groups, said in a statement on February 24 a "provisional truce" would provide the opportunity "to determine the commitment" of Syrian government forces that are backed by Russian advisers and air strikes.
It said it would abide by the cease-fire for two weeks.
The YPG, also known as the People's Protection Units, said it puts "great importance" on the truce.
YPG official Redur Xelil said on February 24 that the Kurdish group would, however, "reserve the right to respond to any aggressor."
The YPG is an ally of the United States but is strongly opposed by Turkey, whose troops have shelled it's troops inside the Syrian border.
In Washington, U.S. President Barack Obama said he is cautious about the prospects of the cease-fire agreement.
Obama said there needs to be some progress in the talks to establish the truce -- slated to start on February 27 -- to halt fighting in the nearly five-year-long civil war that has killed more than 250,000 people and forced millions of people to flee their homes.
He added that a pause in the fighting would allow the U.S. military and its coalition partners concentrate more on the Islamic State group, which isn't a part of the cease-fire agreement.
Obama, who made his comments on February 24 after meeting with Jordanian King Abdullah II in Washington, praised the progress by the coalition in fighting IS in Syria and Iraq but said a lot of work still needs to be done.
"The situation on the ground is difficult," he said. "But we have seen modest progress over the course of the last week or so with respect to humanitarian access to populations that are threatened."
In Ankara, Turkish President Recep Tayyip Erdogan said Turkey supports a cease-fire that "would relieve Syrian brothers but it is worrying to see that with this cease-fire [Bashar al-]Assad's regime, which is responsible for the killing of more than a half million people, and the powers who are backing him, receive open support while a hesitant tone is used towards the opposition."
Putin's Calls
In Moscow, the Kremlin said President Vladimir Putin spoke by telephone to Saudi Arabia's King Salman on February 24 and the two had agreed to continue contacts about resolving the war in Syria.
Putin's aide Vladimir Kozhin said the two spoke about military and technical cooperation.
A Kremlin statement says Putin also explained the essence of an agreement by Russia and the United States for a cease-fire in Syria that is due to begin on February 27.
Later, Putin spoke by telephone with Iranian President Hassan Rohani about the conflict in Syria.
U.S. Secretary of State John Kerry has warned that Washington is considering a "Plan B" to deal with Syria if Damascus and Moscow demonstrate in the coming days that they are not serious about the truce and negotiating a political transition.
Russia's Foreign Ministry said Kerry had spoken with Russian Foreign Minister Sergei Lavrov on February 24 about "preparations for the cessation of hostilities in Syria."
In a statement, the Foreign Ministry said Kerry and Lavrov demanded "close coordination of efforts...including in the military sphere."
IS militants and the Al-Qaeda-linked Al-Nusra Front are not part of the accord.
Russia's state-run TASS news agency quoted an unnamed Kremlin official as saying on February 24 that Russia was "not aware of any 'Plan B' the United States is talking about."
Humanitarian Aid
Meanwhile, the UN began dropping food aid to the besieged Syrian city of Deir al-Zor, which is surrounded by IS fighters.
UN humanitarian chief Stephen O'Brien told the UN Security Council that 21 tons of aid were dropped on February 24.
O'Brien said the UN and its partners have distributed aid to some 110,000 people in Syria, most of them in towns and cities under siege.
He said the UN was awaiting approval to reach 170,000 more people in desperate need of food aid.
In Damascus, the Syrian Foreign Ministry criticized Kerry's remarks to the Senate Foreign Relations Committee in which he stated that the violence in Syria will continue as long as Bashar al-Assad is the president.
The Foreign Ministry said the remarks "run counter to reality."
With reporting by Reuters, AP, AFP, TASS, and Interfax