Putin's Little Red Book Offers Up 'Prophetic' Words Of Russian President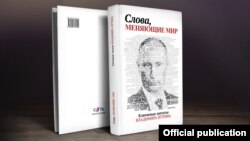 Strapped for gift ideas this holiday season?
How about a 400-page book of Vladimir Putin's most "world-changing" words?
That's what about 1,000 Russian officials and politicians can expect under their New Year's trees this year.
"World-Changing Words, Key Quotes of Vladimir Putin," offers up the Russian president at his best (at least from the Kremlin's perspective) in 19 speeches and articles that critics say is the latest effort to build up Putin's image as the country's infallible leader and harkens back to Mao Zedong's "Little Red Book."
The book is being published by Network, a youth group which has its fingerprints on other pro-Kremlin projects, including an alphabet-learning tool with a hearty helping of the new political correctness in Russia.
Anton Volodin of Network, or "Set'" in Russian, told RBK "Putin's words can be considered prophetic."
'No Personality Cult'
"Listening to the speeches by Vladimir Putin, we were struck with the idea from time to time: a lot of what he says has turned out to be true in one form or another," Volodin told RFE/RL's Russian Service.
Asked if the book is part of attempts to build a personality cult, Volodin responded, "Absolutely not."
"If you think this book is the attribute of some kind of totalitarian government, that's absolutely absurd," he said. "You need to look at the content of the book, not just the headlines. In our book there are not only quotes. We took what we felt were the most revealing addresses, including articles by Putin, and put them together in the book."
According to the RBK report, Putin's First Deputy Chief of Staff Vyacheslav Volodin -- no relation to Network's Volodin -- pushed for the book to be handed out to Russian officials across the country during a meeting with about 50 top political figures last week, including members of the two houses of the Russian parliament.
Natalya Matienko, the secretary of the Public Chamber of Russia's Jewish Autonomous Region, said she had received a copy of the book in the mail along with a letter signed by Volodin, which, according to Matienko, stressed the publication lays out the principles and values guiding Russia on domestic and international issues.
The compilation begins with Putin's address to the UN General Assembly in 2003, and ends with his speech to the same world body earlier this year. It also includes Putin's 2008 interview with CNN, which as the authors note "occurred after Georgia attacked Tskhinvali" -- a reference to Moscow's brief war with Tbilisi over Georgia's breakaway region of South Ossetia, viewed by most of the world as an act of Russian aggression.
The book also includes the full text of Putin's speech to the Munich Security Conference in 2007, when Putin accused the United States of establishing, or trying to establish, a "unipolar" world.
Putin's address to the parliament and nation on March 18, 2014, lauding Russia's illegal annexation of the Ukrainian Peninsula of Crimea also makes the cut.
In fawning tones, the introduction gushes over Putin's alleged power to predict, saying "these are the same words which predicted and predetermined changes to the global political system."
While eager to praise Putin, Volodin of Network is less willing to disclose the source of the book's funding, only saying there were "numerous sources."
Heir To Nashi
Financing may be murky, but Network's ties to the Kremlin are crystal clear.
Network is the spiritual heir to Nashi, the prototypical and now defunct pro-Putin youth outfit that was founded in 2005 in the aftermath of Ukraine's Orange Revolution as part of a Kremlin effort to inoculate Russia against a similar uprising.
But unlike Nashi, which was formed to appeal to working-class provincial youth, Network is aiming to attract the urban middle class.
Earlier this year, when Kyiv students released an impassioned video appeal to their Russian counterparts to question the Kremlin line, Network sprang into action.
Activists of the group in the exclave of Kaliningrad on February 1 posted a video much in the style of the Ukrainian one, spewing the Kremlin line: it attacks Ukraine's pro-European Euromaidan protests as a "coup," decries the February 2014 ouster of former President Viktor Yanukovych, defends Russia's subsequent annexation of Crimea, and zeroes in on civilian deaths in the country's east.
Network also thought up a new learning device in the Siberian city of Irkutsk in May 2014, highlighting to what lengths the Kremlin will go to inculcate a pro-Kremlin worldview.
The primer to help children master the 33 letters of the Russian alphabet has "A" for "Anti-Maidan," Ukraine's pro-Russian groups -- with "P" predictably for "Putin" and "R" for "Russia."
Network dubbed it the "Polite Alphabet," after the "polite" forces that brought about Russia's annexation of Crimea.
At the time, Network said it planned to distribute the primers to schools throughout Irkutsk in the spring of 2014 and bring them to other cities soon.
Network has big plans as well with its latest project, saying the Putin book will be made available to a wider audience beyond Russia's movers and shakers.
"World-Changing Words," should be on the shelves of Russian book stores sometime in January, Volodin has said, adding an English-language version for a foreign audience is also in the works.
"They should understand the justice of Russian politics abroad as well," Volodin says.