Putin Signs Bill Banning U.S. Adoptions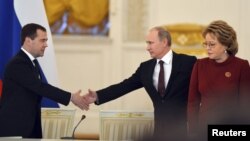 President Vladimir Putin has signed into law a bill banning adoptions of Russian children by U.S. citizens.

The new law is part of larger legislation that also includes sanctions against Americans who committed crimes against Russian citizens or are determined to have been involved in "the violation of fundamental human rights and freedoms."

It also bars people who hold U.S. citizenship from being a member or officer of any nonprofit organization "participating in political activities in the Russian Federation."

The bill was introduced in reaction to a U.S. law known as the Magnitsky Act. That law imposes asset freezes and visa restrictions on Russian officials linked to the death of whistleblowing lawyer Sergei Magnitsky in a Moscow jail in 2009 and other alleged human rights abuses.

The new law goes into effect on January 1. It was passed in the Duma on December 21 with just 15 deputies voting against it. The upper chamber, the Federation Council, adopted the bill unanimously on December 27.

The U.S. State Department expressed deep regret after Putin signed the U.S. adoptions ban into law on December 28.

State Department spokesman Patrick Ventrell in a statement called the move "politically motivated" and said the United States hoped adoption cases already under way would not be affected.

Russian officials have said that because of the new law, Russia will withdraw from a bilateral agreement on adoptions that only came into effect on November 1.

Dima Yakovlev Bill

The law is unofficially called the Dima Yakovlev law after a 2-year-old Russian who died after his American adoptive father left him locked in a hot car for nine hours.

Russia's ombudsman for the rights of children, Pavel Astakhov, said on December 28 that the cases of the 52 children who were scheduled to be adopted in the United States should be taken over personally by regional governors.

"With the signing of the Dima Yakovlev law, we are now stopping all U.S. adoptions, and, naturally, those children who have been chosen by Americans and whom they wanted to take away, will not be going to America," Astakhov said.

"Nobody should be making a tragedy out of this. Now we'll be taking care of each of these children, together with regional authorities, because as of this moment the placement of these children in families is the personal responsibility of the local governors."

The United Nations estimates there are some 740,000 Russian children without parental custody. Over the last 20 years, about 60,000 Russian children have been adopted by Americans.

The U.S. adoptions ban has also been condemned by rights activists, who say it victimizes Russian orphans.

Lyudmila Alekseyeva, head of the Moscow Helsinki Group, said her organization will appeal the new law to the Constitutional Court and, if necessary, to the European Court of Human Rights.

The 85-year-old Alekseyeva, who holds U.S. citizenship from when she emigrated during the Soviet period, said she had no intention of resigning her post as head of the Moscow Helsinki Group.

Russian opposition figures have called for a demonstration on January 13 that would demand the dissolution of the legislature and the repeal of the Dima Yakovlev law.


With reporting by RIA Novosti and Interfax