Forces loyal to Libyan leader Muammar Qaddafi were said to be shelling the rebel-held city of Ajdabiya, the scene of battles between the two warring factions for several weeks.
Hospital officials in that eastern port said eight people were killed and 27 others wounded in shelling on April 16.
In the area around Brega, rebel forces claimed to be advancing on the port city. Rebels said forces loyal to Qaddafi were inside the city, with insurgent fighters on the outskirts.
Six rebels were killed and 16 wounded when Qaddafi loyalists fired rockets at a group of insurgents driving along the exposed coastal highway westward from Ajdabiya.
Meanwhile, to the west in Misurata, Qaddafi forces reportedly fired rockets and mortars on that besieged city.
Human Rights Watch and others have accused Qaddafi's forces of
using cluster bombs
in Misurata, which are banned in more than 100 countries because of the unintended destruction and injury they can cause.
compiled from agency reports
Liveblog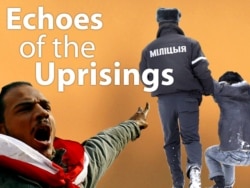 Tracking events and ideas convulsing the Arab world and with ripples around the globe, including RFE/RL's broadcast region.
Click here