French and British efforts to build support for a no-fly zone over Libya have failed to win the backing of foreign ministers from the Group of Eight (G8) leading industrial countries who met in Paris.
Ministers at the meeting agreed that more action within the UN Security Council is needed to pressure Libyan ruler Muammar Qaddafi -- possibly through increased sanctions, but not through military action.
German Foreign Minister Guido Westerwelle told reporters afterward that Berlin was "very skeptical" about any military intervention -- including the imposition of a no-fly zone.
"We all feel solidarity with those who fight against Colonel Qaddafi. But on the other hand, we have to see that a military intervention is not the solution," Westerwelle said. "It's not an easy way and it's not an easy solution. From our point of view, it is very difficult and dangerous."
Westerville also said Germany "does not want to get sucked into a war in North Africa," and wanted "to avoid any slippery slope" in which all countries in the G8 eventually are drawn into such a war.
Military Questions
Today's diplomatic developments come as pro-Qaddafi troops recaptured the western town of Zwara to the west of the capital, Tripoli, today -- one of the first towns the opposition seized during last month's uprising.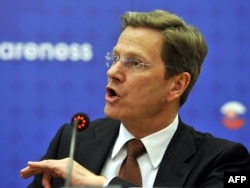 Guido Westerwelle: Germany "does not want to get sucked into a war in North Africa."
That victory at Zwara solidifies Qaddafi's hold on a stretch of coastline from Tripoli to the Tunisian border.

And to the east, Qaddafi's warplanes heavily bombarded the city of Ajdabiya -- forcing opposition fighters to abandon their strategic positions there.

Ajdabiya sits on road junction from where Qaddafi's forces could attempt to advance eastward on the opposition stronghold of Benghazi further to the east. From that road junction, Libyan government forces also could attempt to encircle Benghazi.

But the further the regime's troops advance east, the more difficult it's getting for Qaddafi to supply them with food, fuel, and ammunition, says Jeffery White, a defense analyst at the Washington Institute For Near East Policy.

"Qaddafi has some momentum at the moment, although it remains to be seen if he can sustain it. He has done some, I think, fairly tough fighting with his forces. But the real challenges are still ahead for them," White says.

"He hasn't done much in the Misurata area [an opposition-held city east of Tripoli]. There were a few attempts to break into the city, but those were stopped by the rebels. In eastern Libya, he's now beginning to push his forces further and further to the east -- which means it is going to be more and more difficult to sustain them. And it should be getting a little bit easier for the rebels to hold and defend those areas in the east."

Diplomatic Moves

U.S. Secretary of State Hillary Clinton did not attend today's G8 meeting because she was traveling to Egypt, the second of her three-leg diplomatic mission on the crises in North Africa and the Middle East. Clinton will travel to Tunis next.

This was her first visit to the country since former President Hosni Mubarak was driven from power in a pro-democracy revolution last month.

At a Cairo news conference with the country's new foreign minister, Nabil Elaraby, Clinton expressed support for Egypt's transition to democracy but didn't commit the United States to a specific policy course in the country.

"I want to begin by saying very clearly and directly to the people of Egypt that this moment of history belongs to you, that this is your achievement and you broke barriers and overcame obstacles to pursue the dream of democracy and the United States and President Obama and I will stand with you as you make this journey," Clinton said

She also indicated that the United States would try to preserve the strong alliance with Egypt that has been a cornerstone of Washington's regional policy.

But at least one coalition of pro-democracy activists said it had turned down an invitation to meet Clinton in protest over U.S. policy toward Egypt and the U.S. position on the anti-Mubarak revolt.

Obama and officials including Clinton praised the demonstrators when Mubarak finally relinquished his grip on power on February 11, but the January 25 Coalition –- which is made up of six youth groups -- says the White House gave Mubarak too much support during the uprising.

In a statement, the group said Clinton was not welcome "because the U.S. administration long supported Mubarak's corrupt, dictatorial regime financially, politically, and morally."

Clinton did not address the snub in her comments. She said her meeting with Egyptian officials included a discussion of today's historic dismantling of the hated state security apparatus.

"The [foreign] minister and I discussed in great detail with others who were there, the economic needs -- the need to rebuild a police force that will have the trust of the people," Clinton said. "I applaud the announcement today of the dismantling of the existing state security apparatus and the rebuilding of one that will be responsive to the needs of Egyptians."

In Paris, Clinton met late on March 14 with a leading Libyan opposition envoy who is trying to garner international support for forces opposed to Qaddafi. But neither Clinton nor the envoy, Mahmud Jibril of Libya's opposition Transitional National Council, made any comment to journalists after their talks at a luxury hotel in the French capital.

Clinton's aide Philippe Reines told reporters that the 45 minutes of talks were "private and candid."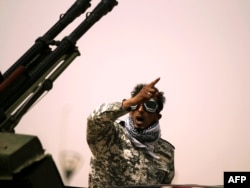 A rebel mans an antiaircraft gun in Ajdabiya.
Split At The UN
The UN Security Council is divided over the no-fly zone proposal, with permanent veto-wielding member Russia insisting that "fundamental questions" remain over the action. Veto-wielding China also is opposed to the resolution, while the United States and Germany have expressed doubts.
French Foreign Minister Alain Juppe said the foreign ministers' decision had was a victory for Qaddafi.
"What is the situation today? Qaddafi is scoring points," Juppe said. "If we had used military force last week to neutralize a number of airfields and the few dozens of planes that they have, possibly the turnaround that is happening to the detriment of the opposition might not be taking place."
Qaddafi himself said today that he expects victory, telling the Italian newspaper "Il Giornale" that the rebels' options are closing.
"There are only two possibilities," he said. "Surrender or run away."

written by Ron Synovitz, with contribution by Hossein Aryan of RFE/RL's Radio Farda and agency reports