Heavy fighting is continuing in Libya today as pro-government troops try to keep up pressure on opposition forces who have seized strategic areas to the east and west of the capitol, Tripoli.
Plumes of black smoke were wafting over the city of Ras Lanouf after Libyan air force jets dropped bombs within the perimeter of the nearby Sidra oil terminal -- apparently hitting storage containers there. But correspondents report seeing mortars and rockets being fired by the two sides near the facility.
There are growing concerns among opposition fighters that an air strike -- or even a stray rocket -- could hit a natural gas storage facility near Ras Lanouf and cause massive secondary explosions.
Nevertheless, opposition forces were continuing to mass in the area to defend against ground assaults by government troops. One opposition fighter in Ras Lanouf told correspondents that any attack on the toxic storage facilities by pro-Qaddafi troops would be seen as a "final act of retribution" by the regime of Muammar Qaddafi.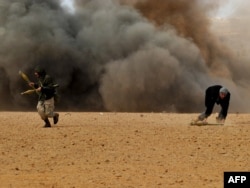 Rebel fighters run for cover as shells explode nearby during a battle today with forces loyal to Qaddafi, just a few kilometers outside the oil town of Ras Lanouf.
Antiaircraft artillery also was being fired by opposition fighters at Libyan fighter jets that have been circling over the city.
But most of the bombing runs are now being made from altitudes that are above the range of the opposition's antiaircraft artillery.
Meanwhile, opposition forces were pushing government troops toward the western edges of Bin Jawad today. Earlier, pro-government troops had claimed control of the entire city.
In Al-Zawiyah -- an opposition-controlled city to the west of Tripoli -- progovernment tanks and truck-mounted multiple-fire rocket launchers were targeting opposition positions while air force jets flew overhead and dropped bombs. It is the fifth consecutive day of attacks on the city by troops that support Qaddafi.
The fighting, described as "heavy clashes," has led to the closure of a major oil refinery near Al-Zawiyah.
West Considers Moves
In Washington, U.S. President Barack Obama and British Prime Minister David Cameron agreed to press forward with planning a range of possible responses to Qaddafi's violent crackdown on civilians.
Measures under consideration include surveillance, humanitarian assistance, enforcement of a UN arms embargo, and the possibility of imposing a no-fly zone over Libya.
Cameron said the world can not stand aside while Qaddafi does "terrible things" to the Libyan people.
Britain and France have made the most aggressive calls among Western powers for a no-fly zone.
Top European lawmakers today called on European Union leaders to formally recognize Libya's opposition and support the imposition of a no-fly zone. That move came after members of the opposition's so-called national council visited the European Parliament in Strasbourg, France, to seek legitimacy.
EU foreign policy chief Catherine Ashton delivers a speech during a debate about Libya.
EU foreign policy chief Catherine Ashton told lawmakers in Strasbourg that European engagement should support current evacuation and humanitarian efforts.
She said whatever other options are taken by Europe should be done with "the full knowledge of what we are doing and with the support of the people who are going to be affected."
U.S. Secretary of State Hillary Clinton says it is important that any no-fly zone be imposed on the basis of a UN Security Council resolution rather than a U.S.-led effort.
Russia Opposed To No-Fly Zone
The UN Security Council has discussed the possibility of a no-fly zone resolution. But veto-wielding Russia has expressed opposition to the idea.
Meanwhile, Qaddafi has expressed defiance, saying in an interview broadcast today that Libyans are prepared to fight against Western nations if the international community imposes a no-fly zone over the country.
Qaddafi continues to insist that the United States, Britain, and France are trying to seize control of Libya's oil reserves. But he also continues to insist that foreign terrorists with links to Al-Qaeda are responsible for Libya's uprising and have been giving drugs to youths who are "brainwashed" by Al-Qaeda rhetoric.
"It is a small group from Afghanistan, Algeria, Egypt, and Palestine who entered cities," he said. "They entered Zentan, Zawiyah, and Benghazi, and then what happened? They recruited youngsters -- juveniles under the age of 20 to whom the law cannot even apply."
Qaddafi made the remarks on March 8 to members of the Zentan tribe in Tripoli, as well as to Turkey's state-run TRT Turk television.
written by Ron Synovitz, with agency reports