Nursultan Nazarbaev -- Now You See Him, Now You Don't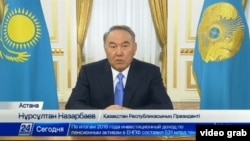 On January 30, for the second time in less than a week, an announcement suddenly went out in Kazakhstan that the country's leader, President Nursultan Nazarbaev, would make an important speech to the nation within hours on national television.
But Nazarbaev's January 30 "special statement" proved as unspectacular as his January 25 address to the nation.
In fact, after television channels once again cleared airtime in the 9 p.m. prime-time broadcasting slot, Nazarbaev's January 30 statement lasted only about five minutes as he mentioned, first in Kazakh then in Russian, that a "third modernization" was coming to Kazakhstan. He then said that this year, rather than read out his annual address to the country it would appear in print on January 31, leaving Kazakhstan's citizens to wait until the next day and read for themselves in state newspapers what a "third modernization" means.
In his January 25 address to the nation, Nazarbaev just said there would be some changes to the constitution intended to better balance the powers between the presidency and the parliament and government. Everyone already knew that, because Nazarbaev had announced those changes more than one month earlier in his Independence Day address to the nation.
These "surprise" announcements from the president to Kazakhs, which sent television and radio stations rushing to clear airtime, stand in stark contrast to events in the spring of 2016.
Stark Contrast
In late April and again on May 21, some of the biggest protests in nearly two decades broke out in cities across Kazakhstan over land reform plans that many in the country interpreted as meaning foreigners, specifically Chinese, would be able to lease land in Kazakhstan.
There were no emergency statements from Nazarbaev on television.
WATCH: Kazakh Authorities Crack Down On Land Protests
On June 5, a group of some two dozen young men allegedly robbed a gun shop then attacked a military facility in Kazakhstan's western city of Aqtobe. Twenty-five people were killed, most of them alleged attackers.
Again, there was no urgent statement on television from President Nazarbaev.
On July 18, a recently released convict shot and killed 10 people in Almaty, eight of them policemen -- an incident that led city authorities to declare a lockdown on Kazakhstan's commercial capital amid fears of a terrorist attack.
No special announcement from Nazarbaev on that day either.
Succession Plans?
The recent sudden announcements of important televised statements from Kazakhstan's president naturally prompted speculation on both occasions that he might be announcing succession plans, maybe even his resignation.
Nazarbaev turns 77 this July. Uzbekistan's longtime president, Islam Karimov, died recently at the age of 78, and since Karimov's death there have been an unusual number of changes and some arrests of officials in Kazakhstan.
But after Nazarbaev's recent television appearances, and his failure to appear on television during times of national crises last year, another thought occurs to me: Maybe he is no longer in total control of the country. He remains president, but others might now be carrying out some or most of the affairs of state.
We'll have to wait until his next sudden, important statement on television to get more clues.
Yerzhan Karabek of RFE/RL's Kazakh Service contributed to this report
The views expressed in this blog post do not necessarily reflect the views of RFE/RL
About This Blog
Qishloq Ovozi is a blog by RFE/RL Central Asia specialist Bruce Pannier that aims to look at the events that are shaping Central Asia and its respective countries, connect some of the dots to shed light on why those processes are occurring, and identify the agents of change. Content will draw on the extensive knowledge and contacts of RFE/RL's Central Asian services but also allow scholars in the West, particularly younger scholars who will be tomorrow's experts on the region, opportunities to share their views on the evolving situation at this Eurasian crossroad. The name means "Village Voice" in Uzbek. But don't be fooled, Qishloq Ovozi is about all of Central Asia.
Latest Podcasts