One Town's Long Wait For The Turkmen President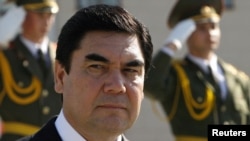 Pity the residents of Turkmenabat. The word went out some two months ago that Turkmen President Gurbanguly Berdymukhammedov would be visiting.
Unfortunately, that message did not specify exactly when the head of state would arrive.
Upon learning of the planned visit, local authorities leaped into action to make Turkmenabat presentable. There were preparations to be made for the arrival at the local airport, streets to be cleaned, walls to be painted, decorations for the route the presidential cortege would take and all the buildings that Arkadag (Protector), as he is called, would visit, as well as rehearsals for the obligatory performances required when Berdymukhammedov showed up to greet his, according to state media, adoring people.
After the initial announcement of Arkadag's impending visit, there was no clarification of the date until June 25, when he actually arrived.
The absence of a specific date forced officials to develop a daily routine of ensuring all the preparations made weeks ago were preserved.
Berdymukhammedov is known for wanting to see sparkling, immaculate buildings as he travels and smiling faces when he reaches his destination, and those who fail to ensure this quickly find out that the Protector only bestows his beneficence upon those who please him.
So in Turkmenabat every day the streets were cleaned, the walls of buildings along his route were inspected to see if they needed more cleaning or painting (and we have some good pictures of this below), decorations were checked again, and dozens of other details were reviewed one more time.
Before we feel too sorry for the local officials, let's consider the life of Turkmenabat's residents for the last two months.
They could not hang anything on balconies in areas the president would pass through, since Arkadag does not like laundry or anything else marring or masking the architecture.
The streets Berdymukhammedov was due to travel on, the main streets of the city, were closed for several hours every day for cleaning.
No one could park their car along those streets, something also true every day along Berdymukhammedov's route to and from work in the capital, Ashgabat.
Anyone participating in the performances -- of dance and song -- had to rehearse each day, another reason for areas being closed off to the public. It also meant these performers had to leave work or school each day for these rehearsals, which could last hours and were recently being conducted in temperatures of around 40 degrees Celsius.
One thing was nearly certain: Now that Arkadag has shown up, he can expect to receive an enthusiastic greeting -- if for no other reason than the people of Turkmenabat know their lives are finally about to return to normal, or as normal as life can be in Turkmenistan today.
And now some photos. RFE/RL's Turkmen Service obtained some pictures of the route and the venues, and those pictures also provide us with a "Potemkin Village," Turkmen-style.
-- Turkmen Service Director Muhammad Tahir contributed to this report
About This Blog
Qishloq Ovozi is a blog by RFE/RL Central Asia specialist Bruce Pannier that aims to look at the events that are shaping Central Asia and its respective countries, connect some of the dots to shed light on why those processes are occurring, and identify the agents of change. Content will draw on the extensive knowledge and contacts of RFE/RL's Central Asian services but also allow scholars in the West, particularly younger scholars who will be tomorrow's experts on the region, opportunities to share their views on the evolving situation at this Eurasian crossroad. The name means "Village Voice" in Uzbek. But don't be fooled, Qishloq Ovozi is about all of Central Asia.
Latest Podcasts