World leaders have condemned the assassination in Kabul of former Afghan President Burhanuddin Rabbani.
Rabbani, who had been serving as head of an official council trying to negotiate a political settlement to the Afghan war, was killed by a suicide bomber on September 20 at his home in the Afghan capital.
A senior Afghan government official, who requested anonymity, told RFE/RL's Radio Free Afghanistan that it was a top Taliban commander who had requested a meeting with Rabbani, who then blew himself up in the peace negotiator's presence.
However, in an e-mail message on September 21 to RFE/RL, Taliban spokesman Zabihullah Mujahid rejected reports that the Taliban had claimed responsibility for the attack.
"We know nothing about this incident and have never talked about this issue with anyone," Mujahid said.
Afghan police said the deadly explosives had been hidden in the suicide bomber's turban.
Rabbani, an ethnic Tajik described as around 70 years old, was president of the Afghan government from 1992-96, preceding Taliban rule, and had been a member of the anti-Taliban Northern Alliance.
Masoom Stanekzai, a senior adviser to Afghan President Hamid Karzai, was reportedly badly injured in the attack. Several others were wounded in the explosion.
Karzai has cut short a visit to New York, where he was to take part in the UN General Assembly, in the wake of the assassination, and an emergency Afghan cabinet meeting is expected to be held on September 21.
Karzai has vowed that the peace process will not be derailed by Rabbani's death.
Karzai spoke alongside U.S. President Barack Obama before the two leaders held private talks on the sidelines of the UN meeting.
"The mission that he had undertaken was vital, Mr. President, for the Afghan people and for the security of our country and for peace in our country," Karzai told Obama. "We will miss him very, very much. I don't think, Mr. President, that we can fill his place easily."
'Tragic Loss'
Obama called Rabbani's killing a "tragic loss" but said it will not deter the United States from helping Afghans create a stable society.
"We both believe that despite this incident, we will not be deterred from creating a path whereby Afghans can live in freedom and safety and security and prosperity, and that it is going to be important to continue the efforts to bring all elements of Afghan society together to end what has been a senseless cycle of violence," Obama said.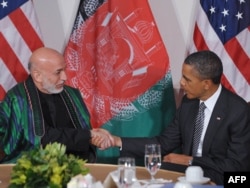 U.S. President Barack Obama (right) discusses Rabbani's assassination with Afghan President Hamid Karzai at the Waldorf Astoria Hotel in New York City on September 20.
The assassination has been condemned by UN Secretary-General Ban Ki-moon, French President Nicolas Sarkozy, and British Prime Minister David Cameron, who said Rabbani had "played a vital role" as the chairman of the Afghan High Peace Council.
The Pakistani government also moved swiftly to condemn Rabbani's assassination. In a joint statement, President Asif Ali Zardari and Prime Minister Yusuf Raza Gilani, described the late Rabbani as a "friend."
And in a statement, NATO Secretary-General Anders Fogh Rasmussen said that those behind the killing "will not prevail." He said the killers "will not stop the Afghan people from taking their destiny in their own hands [or…] shake the resolve of the international and Afghan partnership."
Lost Faith
Rabbani had led a year-long effort to negotiate a political end to fighting in Afghanistan, with little progress.
In March, Rabbani told Radio Free Afghanistan that he was optimistic about the prospects of negotiating an end to the conflict with the Taliban.
But Kabul-based Afghan analyst Waheed Mozhdah said that since then, Rabbani had lost faith in the insurgent group's willingness to find an end to the war.
"In recent times, Rabbani was very disappointed with the Taliban," Mozhdah said. "He used to say that they are not prepared for peace. He adopted a strong anti-Taliban posture.
"Some of his friends even criticized him for being so scathing about the insurgents while his job as the head of the peace council was to reach out to them. It appeared that he was weary of leading the peace council and was looking to resign from its leadership."
Driven From Leadership
Rabbani, an ethnic Tajik, led a powerful mujahedin party during the Soviet occupation of Afghanistan in the 1980s, and then became president of the Afghan government following the Soviet withdrawal.
He was driven from leadership when the Taliban rose to power in the mid-1990s and became the de-facto head of the Northern Alliance. That group filled the power vacuum in Kabul after the Taliban's fall in late 2001.
Human Rights Watch once named Rabbani as one of a number of senior Afghan leaders who may have committed war crimes that killed or displaced thousands of Afghans during the country's civil war in the early 1990s.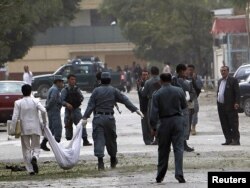 Rabbani's assassination comes just days after a major Taliban assault on Western embassies in Kabul.
In 2007, the Afghan parliament granted a general amnesty for officials accused of crimes during the previous quarter-century of fighting. Legislators said the move would help heal deep national divisions.
Pakistani Protection Criticized
Rabbani's assassination comes just one week after insurgents carried out a 20-hour siege near Western embassies and the NATO compound and three coordinated suicide bomb attacks on other parts of Kabul.
The assault was the third major insurgent attack in the city since June. At least five policemen and 11 civilians were killed.
All those attacks are believed to be the work of the Haqqani network, a Taliban-allied insurgent faction based along the Afghanistan-Pakistan border.
In the wake of last week's siege, U.S. officials have become increasingly public in their criticism of Pakistan for what they say is its protection of the insurgent network.
"There is evidence linking the Haqqani network to the Pakistani government," the U.S. ambassador to Islamabad, Cameron Munter, recently told Radio Pakistan.
"This is something that must stop. We have to make sure that we work together to fight terrorism, to recognize the common enemy, the people who attack Pakistanis, the people who attack Americans, the people who attack other allies of ours. We have to fight these people. We can't let events like what happened in Kabul take place."
with agency reports