VITSEBSK, Belarus -- Authorities in Belarus remain mum about the suspects who have been detained in connection with the April 11 Minsk subway bombing, which left 13 people dead. In fact, it remains unclear whether authorities have detained four men and one woman or three men and one woman.
Officials have said only that the suspects are from the northwestern city of Vitsebsk.
However, online sources in Russia have reported names purportedly belonging to three of the suspects -- 25-year-old Dzimitry Kanavalau, 25-year-old Ulad Kavalyou, and 23-year-old Ilya Kolosov. All three live in a single Vitsebsk apartment block.
The Russian website utro.ru quoted an unidentified Vitsebsk police official as saying Kolosov was arrested in his apartment on suspicion that he helped Kanavalau and Kavalyou assemble the explosive and plan the attack. The Russian website LifeNews.ru, also citing unspecified police sources, identified the third suspect as "Maksim N."
Officials in Belarus have not commented on the Russian media reports.
"We do not confirm or deny these reports," Alyaksandr Antanovich, a spokesman for the KGB in Minsk, said. "We simply are not commenting on information that appears on the Internet."
Antonovich repeated earlier official warnings against disseminating "rumors."
Sympathy For Families
RFE/RL's Belarus Service reports that plainclothes police officers are stationed outside the building, access to which is restricted to residents only.
Reached by telephone, Kavalyou's mother declined to comment, except to accuse media in Belarus of simply "stirring up dirt" to "spoil things and ruin lives even more."
"I don't have any thoughts or opinions -- nothing," she told RFE/RL. "No one has told me anything and I know the same as you, absolutely the same."
She added that Belarusian media "aren't going to write the truth anyway."
Residents of the building expressed sympathy for the families of those identified as suspects and skepticism about the authorities' claims to have cracked the case so quickly.
'The Lab'
Belarusian officials have reported previously that the suspects purportedly constructed the explosive in a makeshift laboratory in the basement of the building where they lived. However, the basement of the Vitsebsk building has not been sealed off by police and locals say they have not seen police searching it.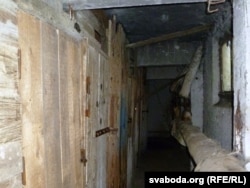 The basement of the detained suspects where the authorities have said they constructed the explosives
"God only knows what kind of basement that is," one resident of the building who asked not to be identified said of the scene. "It smells terrible and things are dripping constantly. It is damp. You'd need a gas mask in order to spend an hour down there. There aren't even any light bulbs. There is no light switch. You'd have to bring your own light bulbs and install them just to keep from banging your head."
He said the building's basement was "divided up into tiny closets that are locked up -- about two meters by two meters, at the most. What kind of a laboratory could you set up there?"
Officials have said that two of the detainees have confessed not only to the Minsk subway bombing, but also to two other bombings in 2005 and 2008. They have said they expect to bring official charges on April 23.
written in Prague by RFE/RL correspondent Robert Coalson on the basis of reporting from Vitsebsk by RFE/RL's Belarus Service