WASHINGTON -- Victims of persecution from around the world often come to Washington seeking justice. So there was nothing unusual in itself about Petr Afanasenko's trip to the U.S. capital in early June. He arrived bearing a grim tale of torture in the prisons of the Central Asian republic of Kazakhstan, where he once worked as a bodyguard for a leader of the would-be opposition.
On visits to Congress and the State Department, he described abuse at the hands of a particular government official. His alleged abuser was Rakhat Aliev, the then-son-in-law of Kazakh President Nursultan Nazarbaev.

"I accuse Rakhat Aliev of personally fabricating a criminal case against me and my colleague when he was chairman of the Almaty province of the Committee of National Security," Afanasenko charged. "He personally participated in torture and tortured people."

Human rights activists say that Afanasenko's account of his imprisonment fits a broader pattern of abuse of opposition figures by the Kazakh government. What makes his visit noteworthy, though, is its timing. Afanasenko was arrested by the Kazakh authorities in 2000. He was released in 2001 and left the country several years after that, ultimately settling in Belgium. His imprisonment was criticized at the time by human rights organizations, the Organization for Security and Cooperation in Europe (OSCE), and the State Department's annual human rights report, which last mentioned his case in 2003.

By contrast, his recent trip to the United States, 10 years after his release from prison, was sponsored by a murky Washington-based organization run by a lobbyist who hails from the former USSR.

The episode raises suspicions that Afanasenko, likely a genuine victim of past government injustice, has become a pawn in a country-sized feud between Kazakhstan's most powerful man and one of his most dogged rivals. In recent years, the two sides have shifted their conflict to an unlikely new theater: Washington.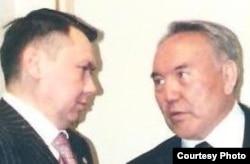 Rakhat Aliev (left) and Kazakh President Nursultan Nazarbaev in a 2001 photo

In one corner is the government of 70-year-old President Nazarbaev, which, according to a recent investigation by "The New York Times," has spent millions of dollars over the past three years retaining lobbyists and wooing experts to argue its case in the corridors of power in the U.S. capital.

In the other corner is Aliev, 48, who during his heyday in Kazakhstan -- first as a senior official in the secret police, then as a high-ranking diplomat -- amassed power and wealth second only to that of Nazarbaev himself. Aliev's downfall was correspondingly dramatic. First came divorce from the president's daughter, Dariga, followed by semi-exile as ambassador to Austria. It was in that country that Aliev, now on the run from his homeland, sought political asylum. In 2008, a Kazakh court convicted Aliev in absentia of attempting to topple the president.

'Hiring' Congress

Public records show that Aliev, too, has tried to gain official favor in Washington by hiring lobbyists to promote his interests. According to a recent document released through the U.S. Lobbying Disclosure Act, one of the firms with which Aliev has worked is RJI Government Strategies Inc., a small Washington lobbying group whose consultants included Tanya Rahall, sister of Representative Nick J. Rahall II (Democrat, West Virginia).

Tanya Rahall declined to respond to RFE/RL's repeated requests for an interview.

In a phone call to RFE/RL's Washington Bureau from an undisclosed location, Aliev said that his lobbying efforts had brought him little benefit.

"I hired Congress with the aim of telling the truth about myself and what's happening in Central Asia," Aliev said, adding: "I hired one of the smaller lobbying firms. Unfortunately, they were not able to achieve much in the way of results. During my conflict with Nazarbaev, all sorts of white, gray and black lobbyists of different kinds have turned up lately. They even work for two sides at the same time -- some of them even for three."

The lobbyists hired by Aliev, according to public records, have declined to comment on the case.

Last week, in the latest dramatic twist in the two men's bitter feud, Nazarbaev's government announced that it was applying for Aliev's extradition from Austria on murder charges. The Kazakh government accuses Aliev of masterminding the kidnapping and murder in 2007 of two bank managers whose bodies were recently discovered in a pit near Almaty, the country's financial capital. An Austrian court rejected the extradition request, though without specifying the reasons. (Alice Irvin, a spokeswoman at the Austrian Embassy in Washington, responded to a request for information from RFE/RL by saying that, "According to our information Mr. Aliev no longer resides in Austria.")

Back in Washington, meanwhile, two of Aliev's allies are pressing ahead with a high-stakes lawsuit filed in U.S. District Court. The two men, Devinci and Issam Hourani, are suing several lobbyists who worked for the Kazakhstan government for $2 billion in damages. The plaintiffs allege that consultants working on Kazakhstan's behalf helped the government to confiscate their property four years ago in retaliation for supporting Aliev. Issam, a British citizen, is married to Aliev's sister.

'Slush Fund' Alleged

The lawsuit has generated attention because evidence introduced by the Houranis includes a letter that purportedly shows Kazakhstan's ambassador to the U.S. describing payments from the Kazakh government to members of congress.

The letter, dated November 2010, describes the activities of a congressional group called Friends of Kazakhstan, which, it says, was "created" by the Kazakh Embassy. According to the text of the letter, "The embassy of the Republic of Kazakhstan is financing them through contributions to their funds from a special hard-currency fund set up by you."

Kazakhstan has denounced the letter as a forgery and cites expert testimony to bolster its case. But the government has not denied seeking out the services of lobbyists. "Kazakhstan has indeed hired consultants, including in the United States," Kazakhstan's ambassador to the U.S., Erlan Idrissov, wrote in a letter published in "The New York Times" in response to the newspaper's article. "This is to explain its position, as is accepted practice, and to respond to critics of the President who continue to perpetuate the fiction that Kazakhstan is a dictatorship."

On June 2, the Washington-based watchdog group Project on Government Oversight (POGO) called on the U.S. Justice Department to start an investigation, expressing concern that "the government of Kazakhstan may have set up a slush fund to influence members of Congress." Jake Weins, an investigator for the group, says that the alleged Kazakhstan Embassy letter detailing payments to Congress, if real, provides grounds for concern.

"If the document is authentic, it essentially shows that the government is unlawfully funding members of Congress, which is a pretty serious deal, because money in politics really matters," Weins said. "What we were able to do is to see that they have, in fact, established caucuses through lawmakers, and the lobbying firm that they had hired was feeding, not a ton of money, but a fair amount of money, to the leadership of that caucus."

At the same time, there is little to prevent foreign governments or individuals from influencing policy in the U.S. capital by directing funds to think tanks and academic institutes. Such organizations can set the terms of public debate and define the popular image of particular countries.

War Of Attrition

Earlier this year, when Nazarbaev was said to have won 95.5 percent of the vote in Kazakhstan's presidential election, those on hand to applaud the outcome included members of a task force organized by two Washington think tanks -- the Center for Strategic and International Studies, and the Institute for New Democracy -- which received $290,000 from the Kazakh government two years ago to write a series of reports assessing the country's progress toward democracy, according to Central Asian affairs website eurasianet.org.

Margarita Assenova, executive director of the Institute for New Democracies, was quoted in the wake of this year's election as saying that "the people credit the wise leadership of Nazarbaev for peace, stability, economic development, and ethnic harmony in Kazakhstan. They want this to continue."

The OSCE, for its part, criticized the results, saying that "reforms necessary for holding genuine democratic elections have yet to materialize."

As for Afanasenko, he has vowed to pursue his allegations against Aliev in an Austrian court. Aliev calls his accusations "a crude lie," and dismisses them as part of the Kazakhstan government's campaign to malign him. He says that he has evidence that Afanasenko is employed by the Kazakh security service.

Meanwhile, the group that helped set Afanasenko's U.S. agenda, a one-man think tank called the International Eurasian Institute for Economic and Political Research, seems determined to maintain a lower profile than its more illustrious counterparts. The organization is run by Rinat Akhmetshin, an ex-Soviet citizen who has been linked in the past with Kazhegeldin, the Kazakh opposition leader who once employed Afanasenko as a bodyguard. Akhmetshin, who sponsored Afanasenko's visit, declined to comment on the case when contacted by e-mail, saying only that Afanasenko "is an old friend -- he is a Belgian citizen and has nothing to do with [Kazakhstan]."

Akhmetshin could not be contacted at the phone number shown on his institute's letterhead. There is no office at the Washington address it lists, and its website is moribund. "Institute relocated 5-6 years ago to a different address," said Akhmetshin in his e-mail message.

The feud between Kazakhstan's president and his errant son-in-law, by contrast, shows no sign of subsiding anytime soon.