Kremlin-Financed Group Targets 'Destructive, Antistate Ideas' At Russian Universities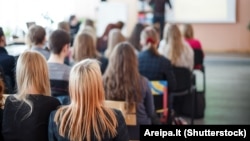 MOSCOW -- A group that has received financing from the Kremlin is under fire over a report that it has been secretly assessing the "protest potential" of students and staff at Russian universities and making its findings available to the authorities.

Critics have labeled a senior staff member at the Moscow-based Institute for Strategic Research and Forecasts an "informant" for the security services following the October 24 report in the newspaper Kommersant, which sparked anger among Russia's beleaguered liberals.

It added to concerns that President Vladimir Putin's government, which has taken several measures to deter demonstrations after a wave of protests in 2011-12, could be using an array of tools to keep tabs on citizens in hopes of thwarting any groundswell of opposition.

Kommersant reported that Nikita Danyuk, deputy head of the institute, told a major congress of university rectors over the weekend that he had toured universities to deliver a lecture series titled Scenarios For The Future Of Russia.

It said that Danyuk told the congress that he had visited over 40 universities in Moscow and dozens elsewhere in Russia, organizing discussions and openly inviting students to express their political views, but that his actual aim was to assess their "protest potential."

"The country is in a state of undeclared war," Danyuk told the congress, according to the newspaper. "It is hybrid in nature, it has many fronts. One of them runs inside our state -- that is the mental front."

The institute -- which is affiliated with the Moscow-based Russian University of the Friendship of Peoples -- developed the lecture series in an effort to "resist destructive political forces" and help keep the state from "falling into chaos and powerlessness," Kommersant quoted Danyuk as saying.

"As a result of this project, notes were drawn up for official use --including for representatives of the organs of state power, and also for certain specialized structures," he said, without naming any state agencies.
'Destructive Propaganda Of Antistate Ideas'

Danyuk said he found that the "destructive propaganda of antistate ideas" was not being expressed openly in public settings, but suggested it was being voiced "without embarrassment" by professors, students, or both in more private settings.

The Kommersant report prompted a wave of angry comment. One article that circulated on social networks was headlined An Employee Of The Friendship Of Peoples University Traveling Around Regional Universities Has Turned Out To Be An Informant For The Special Services.

The Friendship of Peoples University said that Danyuk was not acting as its representative at the congress and that his findings and statements had nothing to do with the university, Kommersant reported.

The director of the Institute for Strategic Research and Forecasts, Georgy Filimonov, denied that it had assessed the protest potential at universities.

Putin's spokesman, Dmitry Peskov, declined to comment in detail. Asked whether the Kremlin had initiated a project to monitor the protest mood at universities, he said: "We have no information about that. I cannot tell you anything."

Online news outlet Gazeta.ru reported that the project Scenarios for the Future of Russia had received presidential grants from the Kremlin twice, in 2015 and 2016, and that they totaled about 12 million rubles ($192,000).

The grant website indicates that the Scenarios for the Future of Russia project won $80,000 in 2016. The parent organization which received the grants and which is listed on the grant website is not the University for Peoples' Friendship, but an association of Russian lawyers.
No Maidan Here

The note appended to the grant, however, matches the activities of the project as described by Danyuk, stating that its goals as "consolidating Russian socially active and patriotically thinking youth." It also says that besides listening to lectures, students will be invited to discuss "problems of political and social life in debate with peers and invited experts."

Gazeta.ru also said that Danyuk was a member of Antimaidan, a pro-Kremlin group founded in 2015 to counteract any antigovernment activities along the lines of the Euromaidan protests that pushed a Moscow-friendly president from power in Ukraine the previous year. Nikolai Starikov, a leader of the Antimaidan group, is also a speaker for the Scenarios for the Future of Russia lectures.

Danyuk challenged the Kommersant report, claiming that his words had been twisted, that he was not an "informant," and that the aim of the lecture series was not to collect information for the authorities. He suggested the goal was to protect students from subversive propaganda or activism.

"The project is meant to prevent destructive political technologies in the student sphere so that students do not become the targets of manipulating political technologies," state news agency RIA Novosti quoted him as saying.

Danyuk told the newspaper MK that he provided information to the security services on only one occasion, when he said he had conveyed comments made about the extremist group Islamic State.

Kommersant journalist Aleksandr Chernykh published an audio file of Danyuk's comments in an effort to show that he had not twisted his words. Other news outlets, such as Newsru.com, said they determined that the Kommersant report had omitted a few words from quotes but had not changed the meaning of what Danyuk said.