Russians Have Fun With U.S. Treasury's 'Oligarchs List'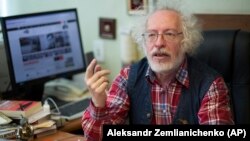 MOSCOW -- Russian social-media users did not appear to be impressed with the fruits of the U.S. Treasury Department's monthslong effort to identify "oligarchs" and officials close to President Vladimir Putin.
Some suggested that the list of 210 names released on January 29 contained little evidence of independent research, while others wrote it off as a lazy copy-and-paste of a Kremlin staff directory and Forbes Russia's list of the wealthiest Russians.
"You're going to laugh, but the first part of the U.S. Treasury Department list practically entirely repeats the major staff and key officials section on the Kremlin website," tweeted Andrei Zakharov, a journalist for the RBC media outlet.
Konstantin Kosachyov, a prominent lawmaker in the Federation Council, wrote on Facebook that a quick scan through the list made him think that "they had simply copied the Kremlin telephone directory."
The greater part of the list was made up of 114 senior political figures, among whom only two are lawmakers. Yet even as it was cast as a lazy facsimile of the Kremlin phone book, it was officially described as an attempt to harm ties between Washington and Moscow.
In comments to RIA Novosti, Vitaly Milonov, a lawmaker in the State Duma best known for his persistent antigay campaigning, proposed that Russia consider implementing some kind of a "mirror response" against Washington.
He proposed targeting U.S. officials "guilty of waging this sanctions war against our country."
A Who's Who?
Criticism from lawmakers, who often carry the Kremlin's message to the media, came despite many observers suggesting that the list fell flat.
Yevgeny Kaspersky, the founder of the Internet security company Kaspersky Lab who was named on the list, claimed that the Treasury Department document "100 percent" matched Forbes' list of the wealthiest Russians. (The 96 "oligarchs" listed comprise all of the Russian dollar billionaires listed by Forbes.) He suggested that the authors of the list do not know what an oligarch is, and that Washington did not appear to be allowing for the possibility that a Russian businessman could be legitimately successful.
Some took shots at those who didn't make the list.
Aleksei Venediktov, chief editor of the Ekho Moskvy radio station, suggested on the Telegram messaging service that not being listed was an illustration of certain individuals' lack of clout in Russia's Kremlin-dominated political system.
He suggested that "the most interesting [thing] is that there are no governors and not a single deputy (apart from [Federation Council speaker Valentina] Matviyenko and [State Duma speaker Vyacheslav] Volodin -- who are members of the Security Council)."
This, he wrote, illustrated that "they don't influence decision making."
Igor Korotchenko, a regular pro-Kremlin and hawkish pundit on state TV, noted with suspicion the absences of the names of former Finance Minister Aleksei Kudrin and Anatoly Chubais, the head of the Russian state nanotechnology company, Rusnano. Both are often associated with more "liberal" wings of Putin's elite, and seen as at odds with conservative factions.
"A question for the State Department: why aren't Chubais and Kudrin on the sanctions list?"
Some in the opposition were also disparaging of the list, suggesting the administration of U.S. President Donald Trump had watered it down to undermine the credibility of punitive sanctions the United States has imposed against Russia for its actions in Ukraine, human rights violations, and meddling in the U.S. presidential election.
"I did actually think the Trump administration would sabotage the sanctions against Putin, but I didn't even expect such a formal approach," tweeted Vladimir Milov, a former deputy energy minister who is now in the opposition and supports presidential aspirant Aleksei Navalny. "Instead of a report on the Putin mafia, they've just copied surnames known to everyone from the Internet, and that's all."
Georgy Alburov, an activist at Navalny's Anticorruption Foundation, posted a tweet in which he expressed glee at news of lawmakers responding to being listed. "The 'Putin list' is a strange and pointless thing, but how nice it is to see these United Russia asses flaring up every 10 seconds. I haven't seen anything like it in a while."
Some warned that, regardless of how much or little effort went into it, the list would have an impact.
Dmitry Trenin, director of the Carnegie Moscow Center, tweeted: "The power of U.S. sanctions is not in the specifics of people or companies blacklisted but in a simple message: those who want to do deals with Russians might have to deal with the United States. The recent Kremlin list underlines that message."