BRUSSELS -- Russian human rights activist Svetlana Gannushkina is calling on the European Union to revise its legislation on the treatment of Chechen refugees.
In an interview with RFE/RL, Gannushkina, a leading member of the rights group Memorial, said Chechen asylum seekers face an unforgiving bureaucratic environment in the EU. And far too many, she says, are being forced to return home, where they face persecution.
"What kind of problems do Chechens face in Europe? The main problem is legislation," she says. "They don't have the status of refugees or any other protection. They cannot work, and of course that makes it very difficult for them. Even if they manage to receive the refugee status, this is such a long process that it causes continued stress."
Gannushkina and the European Council on Refugees and Exiles (ECRE), a Brussels-based advocacy group, are presenting a set of guidelines to revise EU legislation on asylum seekers.
They are particularly critical of something called the "Dublin regulation," which establishes that the EU member state a person first arrives in is ultimately responsible for examining their asylum application.
Undue Burden
Critics say the regulation puts an undue burden on border countries, who often prefer to either send refugees back home or to pass them on to unsafe third countries through bilateral readmission agreements.
Since 2003, refugees from Russia have become the third-largest group of asylum seekers in the EU. And roughly one-third of these are ethnic Chechens, most of whom enter the union via Poland.
Critics say that in recent years, Poland has decided to send an increasing number of Chechen asylum seekers home, arguing that the danger for them there has subsided considerably.
Gannushkina disputes this logic, noting that torture, kidnapping, and disappearances remain the norm in Chechnya under the region's authoritarian leader, Ramzan Kadyrov.
"This is the situation in Chechnya: Anyone can be threatened if they don't obey the system," she says. "This totalitarian society is very difficult for those who have been living in Europe a long time already, especially for young people. For someone who went away at the age of 12, to come back to this situation is, honestly speaking, impossible.
"I know people who returned and simply don't come out of their houses. But again, unfortunately, I cannot tell you their names, because they don't approach us officially. They do that only when they are back in Europe and ask for support. If I would tell you these names today, they would be in danger."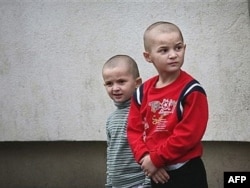 Chechen boys at a refugee camp near Warsaw (file photo)

'We Dispute This'
Likewise, Claire Rimmer, who monitors refugees from Russia for ECRE, says Chechen asylum seekers face excessive hardship if they are forced to return home.
"The government seems to be saying the situation is tense in Chechnya but that it is becoming more stable," Rimmer says. "They talk about the opportunities for internal protection, which means that they could live somewhere else in Russia and get protection elsewhere, but we dispute this."
ECRE has also criticized the United Nations High Commissioner for Refugees (UNHCR) for closing its Vladikavkaz office, which supports many refugees in the North Caucasus. As a result, EU countries have been forced to resort to other sources of information in making decisions about returning Chechens -- including state-sanctioned NGOs from inside Chechnya whose impartiality is in doubt.