BRUSSELS -- The European Union is implementing new policies aimed at preventing entrenched energy monopolies from dominating the market. And Russia is furiously maneuvering behind the scenes to see to it that these measures are toothless.
During a visit to Brussels in February, Russian Prime Minster Vladimir Putin voiced his objections to the changes, known as Europe's third energy package, calling them confiscatory and claiming they would lead to higher prices for consumers.
Moscow is particularly opposed to a provision requiring "unbundling," which stipulates that energy companies operating in Europe must separate the production side of their business from their distribution networks. The European Commission says it has uncovered widespread evidence of anticompetitive behavior among the continent's integrated energy giants, including denying third parties access to pipelines.
Vladimir Chizov, Russia's EU ambassador, tells RFE/RL that Moscow is in regular contact with the European Commission about the energy package, which went into effect April 1. He says the legislation contains enough ambiguity to allow Russian companies, like the state-controlled natural gas giant Gazprom, to be able to protect their interests.
"The third energy package has become law in the European Union, though it is a complex document that includes a certain degree, a certain room of maneuver," Chizov said.
Tug-Of-War
The ongoing controversy over the third energy package is part of a long-standing tug-of-war between Russia and the EU over energy policy.
With its large oil and gas reserves and extensive pipeline system, Moscow has long been the key energy player on the continent. Russia provides 45 percent of the European Union's gas imports and has enjoyed close ties with frontline European states like Germany. But newer EU members in Eastern Europe, wary of the outsized influence enjoyed by companies like Russia's state-controlled natural gas giant Gazprom, have long pushed for the establishment of a single energy market with strong regulations.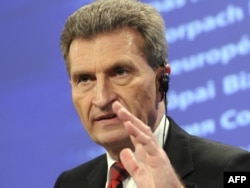 EU Energy Commissioner Gunther Oettinger
The third energy package is a key part of that effort.
But Russia, which is adept at playing on divisions within the union, has already secured exemptions from the new rules for two offshore stretches of the North Stream pipeline, a joint project with Germany that will carry Russian gas to Western Europe.
Moreover, due to the new energy legislation's complexity, EU Energy Commissioner Gunther Oettinger has postponed plans to take legal actions against member states who fail to implement the new rules.
'Ownership Unbundling'
According to the legislation, member states can use different methods of separating their production and distribution units. The European Commission's preferred option, called "ownership unbundling," would require companies who own both production and distribution to sell off one or the other. This option is also favored by some new member states, such as Lithuania, which hope to limit Russia's influence.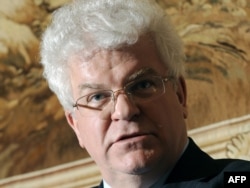 Russia's EU Ambassador Vladimir Chizov: Maneuvering room
Russia and frontline EU member states France and Germany oppose this form of unbundling. These countries, all of whom have large energy conglomerates, instead favor options allowing companies to retain formal ownership of their production and distribution while giving up control over their day-to-day management.
A third possibility allows energy companies to maintain ownership but places them under strong external oversight.
In a meeting with Oettinger in February during Putin's Brussels visit, Russian Energy Minister Sergei Shmatko reportedly presented a "wish list" of exemptions and legal clarifications. An official close to the discussion told RFE/RL that Oettinger showed a "general willingness to talk" and believed that "some movement" on the package might be possible.
But Oettinger's spokeswoman, Marlene Holzner, says that while European officials are in close and regular contact with the Russian government, watering down the EU's energy laws is not on the table.
"No, we are not talking about changing the laws at all," Holzner said. "Our laws have been confirmed and they are the outcome of a long democratic process whereby the commission has proposed [them to] the [European] Parliament. Also the member states in the council [which] have approved it."

Room For Discussion
Holzner said Shmatko came not with a "wish list" but rather with questions about the energy package. She added, however, that there is room for discussion about exemptions.
"There is some discretion of maneuver within a law. It is possible under certain conditions to make exemptions," Holzner said, "and this can be explored, but only in very concrete cases. And this is also what we can discuss."
A national regulator, for example, may ask the European Commission for an exemption for a specific company. But even if one is granted, third parties must still have access to the company in question's distribution capacity, provided they pay a competitive market rate.
Russia, meanwhile, is unlikely to cease its lobbying effort.
Justifying Moscow's persistence, Chizov says gas sector differs from other businesses and the EU has failed to take this into account.
"Imagine a Russian company, alone or in cooperation with a European company -- as is the case in many instances -- develops an oil or gas field," Chizov says. "It spends money on that. It spends another huge amount of money on building the pipeline, only to find that the EU is demanding that third parties should be allowed into their project.
"But where would you find the third parties? They are not up there on the oil field. They are not sitting on top of the pipeline. So the only option for them to join -- to use this clause -- is to get included...downstream, in the distribution part of the project, and...get money for nothing, to put it mildly."
An official with the European Commission, meanwhile, tells RFE/RL that despite the grumbling, Moscow will accept the new rules in the end.
"Putin put up a big show when he came to Brussels, but everyone knows he had to play to his home crowd," the official said. "It is different in the real political discussion behind locked doors."