KHIMKI, Russia -- A prominent environmental activist says the Russian authorities are threatening to take away her children.
Yevgenia Chirikova, leader of a movement seeking to prevent the Moscow region's Khimki Forest from being felled to make way for a new highway, says somebody unexpectedly rang her doorbell on February 21, but she did not answer. She didn't know it yet, but her visitors were from Russia's Child Protection Service.
One of her neighbors later told her that the service had come to their door asking about Chirikova. They told the neighbors that they had received a complaint that Chirikova had been mistreating their two daughters, who are 4 and 9 years old.
All of Chirikova's neighbors deny having made any complaint and the Child Protection Service says the tip was anonymous.
Speaking to reporters following a meeting of activists at her apartment, Chirikova described the move as the latest incident in a campaign of harassment against her and other activists seeking to save the Khimki Forest.

'Serious Corrupt Interests'
"We are opposing very serious corrupt interests," Chirikova said. "The interests at stake here are so great that they won't stop at anything -- even the dirtiest of methods. Nothing could be fouler than taking away children from their mother."
An idle tractor sits on a site of the planned highway.
Chirikova has since called the Child Protection Service, which confirmed their intention to inspect her apartment in order to submit a report to the police. She
posted a video of the call
on her movement's website.
In the video, a representative of the Child Protection Service tells her over the phone, "If we receive information like this, we have to do our work and find out if it is true." But Chirikova said she doubted the report would be honest and objective.
Chirikova said that despite the harassment, she and other activists would continue their efforts, including a protest planned for Moscow on March 1.
Last Of A Dwindling Greenbelt
A petite 33-year-old former Moscow businesswoman, Chirikova emerged last summer as the public face of a grassroots movement to save the 150-hectare Khimki Forest, a vital part of Moscow's dwindling greenbelt that was intended to act as a preserve for local wildlife and a buffer against the pollution emanating from the capital.
Her group, the Defenders of Khimki Forest, attracted international headlines when they set up camps in the forest in a last-ditch effort to save it from destruction to make way for a highway from Moscow to St. Petersburg.
In the wake of the protests, President Dmitry Medvedev initially halted the highway's construction pending an investigation, but he eventually gave the project the green light last December.
The recent threats against Chirikova came just weeks after another Khimki activist, Alla Chernysheva, was detained along with her children and accused of planting a fake bomb at a rally that she had a hand in organizing.
Chernysheva's children were held in a separate room from her, and she was not allowed to call a relative to take care of the children or take them home. She says the room the children were held in "reeked of smoke" and that her youngest daughter had a bad cold and was coughing. "They kept them there for 4 1/2 hours," she says.

Forced Confession
Chernysheva says the police unsuccessfully tried to coerce her into signing a confession. "They threatened me. They said they would take away my children," she says. "They said they would put me and Yevgenia Chirikova in prison."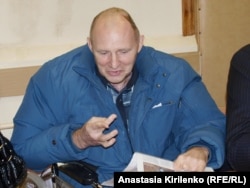 'Khimkinskaya pravda' editor in chief Mikhail Beketov
Chernysheva says she believes she was targeted because she edits the newspaper "Khimkinskaya pravda is alive," produced by the Defenders of Khimki Forest.
The paper's name is a tribute to the local paper "Khimkinskaya pravda," which has staunchly opposed the Moscow-St. Petersburg highway.
That paper's editor, Mikhail Beketov, has suffered constant harassment. His car was set on fire, his dog was killed, and in November 2008 he was attacked by unknown assailants who beat him so severely that he suffered brain damage and remains confined to a wheelchair.
Another journalist writing about the Khimki controversy, Oleg Kashin, was brutally assaulted in November 2010.
In a recent speech to activists, Yaroslav Nikitenko, the deputy head of the Defenders of Khimki Forest, vowed that despite the harassment, the group would "continue to fight" the highway project.
Nikitenko said the group appealed to European Commission President Jose Manuel Barroso prior to his meeting with Prime Minister Vladimir Putin on February 25. He also said they were considering legal action against the Child Protection Service.
"They are not serving child welfare but instead terrorizing civil activists," Nikitenko said. "When children are involved, all this is particularly repulsive and simply unacceptable."
In the March 1 protest, the Defenders of Khimki Forest are planning to march to the offices of Vinci, the French construction company contracted to build the Moscow-St. Petersburg highway.
Chernysheva says the group will not be intimidated. "They don't know what to do with us or how to avoid us," she says. "We will stand behind Yevgenia Chirikova and defend Khimki and our organization."