WATCH: The sentencing in a Moscow courtroom of Mikhail Khodorkovsky and Platon Lebedev on December 30. (Reuters video)
By RFE/RL
A Moscow court has sentenced jailed former oil oligarch Mikhail Khodorkovsky to another six years in prison in a trial seen as a major barometer of Russia's authoritarian government.
The country's most famous political prisoner was convicted of stealing billions of dollars' worth of oil and laundering the proceeds, charges Kremlin critics say were fabricated because of the political threat he posed to Prime Minister Vladimir Putin.
Khodorkovsky and his business partner, Platon Lebedev, were both ordered to serve 14 years in prison on charges they embezzled and laundered more than $25 billion from Khodorkovsky's Yukos oil company.
The sentence includes time served since their arrest in 2003, meaning they'll be released in 2017.
"Khodorkovsky and Lebedev's guilt has been fully proved by the investigation and trial," Judge Viktor Danilkin said in reading the verdict.
Sitting inside a glass cage in the courtroom, the two defendants smiled silently on hearing the sentence.
Khodorkovsky's mother, Marina Khodorkovskaya, reacted emotionally, telling the judge, "Damn you and your descendants!"
Mikhail Khodorkovsky reacts to the sentence on December 30.
Yuri Schmidt, one of Khodorkovsky's lawyers, told journalists today he would appeal the verdict.
"I believe the sentence is absolutely illegal and not based on real evidence," said Schmidt. "The sentence was clearly issued under pressure, and it is quite clear where this pressure was coming from. The pressure came from executive authorities, headed, as before, by Mr. Putin."
Judge Danilkin found Khodorkovsky and Lebedev guilty on December 27 but delivered his sentence only today because Russian judges continue the Soviet-era practice of reading verdicts' every word before handing down sentences.
Opposition leaders condemned the sentence.
Sergei Mitrokhin, head of Russia's liberal Yabloko Party, told RFE/RL's Russian Service it was "illegal."
"It is absolutely not based on the law," Mitrokhin said. "It is a pure case of a political order. And this is a certain type of political repression."
Opposition leader Boris Nemtsov called the sentence a "disgrace."
The verdict was due to have been read earlier this month but was postponed in a move Kremlin critics believe was meant to minimize publicity by taking place just before New Year's, Russia's biggest holiday.
Power And Enemies
Once Russia's richest man, Khodorkovsky is already serving an eight-year sentence on charges of fraud and tax evasion, in a case that has come to symbolize Putin's authoritarian rule.
Yukos, the country's biggest oil firm, was dismembered. Its best assets were sold to a state-controlled company in a shady closed auction, part of Putin's drive to put much of Russia's vast energy industry back under state control.
The latest charges against Khodorkovsky were brought months before he was first eligible for parole in 2007. Many believe he and Lebedev were charged as an excuse to keep them in jail through the next presidential election in 2012, in which many believe Putin wants to run.
Khodorkovsky's supporters say the accusations against him are absurd and contradict the outcome of his first trial. They say he was arrested because he posed a political threat to then-President Putin by funding opposition parties and using his huge influence to lobby against state control over the oil industry.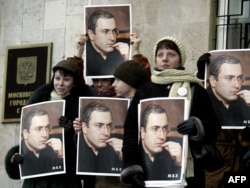 Khodorkovsky supporters protest outside the courthouse in Moscow during his first trial, in March 2004.
Most Russians believe Putin has retained his grip on power since stepping down to become prime minister in 2008. Earlier this month, he said Khodorkovsky was a "thief" who should sit in jail. Khodorkovsky's lawyers said that statement was proof Putin was openly interfering in the court proceedings despite President Dmitry Medvedev's many promises to clean up Russia's notoriously corrupt court system.
After today's sentencing, Leonid Gozman, a leader of the market-oriented Right Cause Party, told RFE/RL's Russian Service that the latest sentence was "expected but shameful."
"I hope they will be released earlier," Gozman said. "They have already secured a moral victory, and I hope sooner or later they will get an acquittal. It is obvious that this was a personal case."
In his final statement during the trial, Khodorkovsky said the process showed the officials running Russia's "bureaucratic and law-enforcement machine" are free to act at will. "There is no right of private property," he said. "No person who conflicts with the 'system' has any rights whatsoever."
Speaking outside the courthouse on December 29 as Judge Danilkin was still reading the sentence, Khodorkovsky's father, Boris, echoed his son's sentiment, calling the trial a "farce."
"As long as the judicial system isn't cleaned up, as our deeply respected president said, nothing will change," he said.
International Concern

The December 27 guilty verdict drew condemnation from Western countries, as did today's sentencing.
European Parliament President Jerzy Buzek pointed to "systemic problems" behind the trial, which he called "the litmus test of how the rule of law and human rights are treated in today's Russia."
"There is still a very long path for Russia to take," he said in a statement.
German Chancellor Angela Merkel said the outcome of the trial contradicts the stated intentions of Russia's leaders for the country's development.
In the United States, State Department deputy spokesman Mark Toner said, "We remain concerned by the allegations of serious due process violations, and what appears to be an abusive use of the legal system for improper ends, particularly now that Khodorkovsky and Lebedev have been sentenced to the maximum penalty."
Reuters quotes a senior official in the government of U.S. President Barack Obama as saying that the outcome of the case may hurt Russia's bid for accession to the WTO, for which the United States' support is key.
"The WTO is a rules based, rule of law organization," the unnamed official was quoted as saying. "Most countries around the world do not look at this verdict as a demonstration of the deepening of the rule of law in Russia."
France called on Russia to consider the widespread international criticism of the case as Khodorkovsky's legal team pursues an appeal.
Sergei Nikitin, head of Amnesty International's Moscow office, told Interfax news agency that although the case against Khodorkovsky was politically motivated, he hoped the appeal process would be "governed by law."
written by Gregory Feifer based on reports from RFE/RL's Russian Service