MOSCOW -- Fifteen years after joining the Council of Europe, Russia appears to be reconsidering one of its main responsibilities as a member.
Acting Federation Council Speaker Aleksandr Torshin has introduced legislation that would allow Russia's Constitutional Court to override rulings of the European Court of Human Rights (ECHR). If passed into law, it would effectively abrogate one of Moscow's key obligations to a major European rights and democracy institution.
Prominent Russian rights activists including Lyudmila Alekseyeva, head of the Moscow Helsinki Group, and Svetlana Ganushkina of the group Memorial, say passing the legislation could cost Russia its membership in the Council of Europe.
"This is actually potentially a really big international scandal," Anna Sevortian, director of Human Rights Watch's Moscow office, says. "To tell the truth, I believe that if this draft bill is passed, then it effectively equates to reassessing the responsibilities that Russia took upon itself when it signed the European Convention on Human Rights."
Defending Itself
Sergei Markov, a lawmaker from the ruling United Russia faction in the State Duma, tells RFE/RL that the new legislation is necessary to guard against potentially biased rulings and from what he calls "Russo- phobia" in the Council of Europe.
"It has become clear that Russia needs to defend itself not from the European Court of Human Rights but from politically colored and unjust decisions by the European court," Markov says.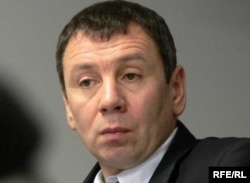 Lawmaker Sergei Markov calls the bill an effort to protect Russia from "Russophobia" in the Council of Europe.
Markov adds that the bill is being discussed "in all seriousness," and he thinks it has a reasonably good chance of being passed into law.
The bill's supporters say it was inspired by the Strasbourg-based court's handling of a case filed by Russian Army Captain Konstantin Markin.
The ECHR ruled in favor of Markin when he appealed a Russian court's decision to deny him three years paternity leave. Markin is a divorced father and the custodian of three children, but Russian courts ruled that only female military personnel are entitled to this length of leave.
The ruling prompted President Dmitry Medvedev, who is a lawyer by profession, to say, "We never gave away a part of our sovereignty that would allow an international court or foreign court to carry out decisions that violate our national legislation."
The ECHR ordered Russia to pay a symbolic 200 euros ($285) in compensation and instructed Russia not to discriminate based on gender. The ruling was lenient because Markin was ultimately granted two years of paternity leave by his military unit in 2006.
Analysts and rights activists say, however, that the Markin case was just a pretext for a legislative move with much broader political implications.
Wanted: Loophole
Oleg Orlov, director of the Memorial rights group, says Moscow is seeking to establish a legal loophole that would allow it to sidestep unwanted ECHR rulings on politically charged cases like that of jailed former oil executive
Mikhail Khodorkovsky
or attorney Sergei Magnitsky, who
died in prison
after being denied medical attention.
"They anticipate there may be decisions that will be unpleasant for Russia," Orlov says. "A ruling might touch on some major financial questions. All this means that they need to establish some precedents and some mechanism that could limit the ruling so that they don't have to carry it out."
Russia joined the Council of Europe and signed the European Convention on Human Rights in 1996, a time when the country sought greater integration with the West.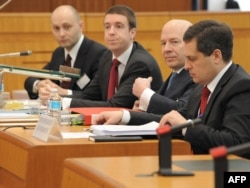 Representatives of Russia await the start of a European Court of Human Rights hearing in Strasbourg. (file photo)
Since Russia joined, there has been a rapid increase in the number of Russian appeals to the Strasbourg court, whose rulings are binding. Russians now account for over one-fifth of the cases filed to the ECHR.
Under the bill under consideration, Russia would still be obliged to pay compensation ordered by the ECHR, but would be able to sidestep other aspects to the rulings.
The ECHR on May 31 awarded Khodorkovsky 24,000 euros in damages when it found that his rights were violated during his arrest at gunpoint on an airstrip in Siberia in October 2003 and during his subsequent pretrial detention. The court also expressed "reasonable suspicion" that Khodorkovsky's case was politically motivated but could not establish "incontestable proof."
Khodorkovsky has said he will donate the monetary award to charity.
Just A Signal?
Vadim Klyuvgant, one of Khodorkovsky's defense lawyers, says his client's case "is at the very least one of the main reasons for this legislation." He calls the bill an "outrage."
On June 24, the daily "Vedomosti" quoted United Russia lawmaker Aleksandr Moskalets, who is involved with the proposed legislation, as saying the bill will be fast-tracked. It could be discussed in its first reading in the State Duma this week and pass all three readings by the end of the lower house's current session, which ends on July 6.
To become law, the bill would need to pass in the Duma and in the Federation Council, the upper house of Russia's parliament.
Orlov says the whole exercise could turn out to be a bluff.
"It's a hint to the [European] court," Orlov says. "It means to say, 'Just reflect a moment before you bring down a ruling on Russia, or else Russia will slam the door on you.' That is the signal that Russia is giving."
A spokesperson for the Council of Europe says the institution is following the bill's progress "closely" but declines to comment "at this stage."