Russian PM Attacks U.S. Over National Debt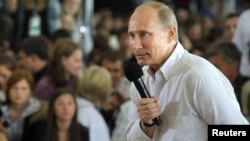 MOSCOW -- Russian Prime Minister Vladimir Putin told pro-Kremlin activists at a youth camp on August 1 that the United States was behaving like a "parasite" on the world economy.
The remarks, made just as the U.S. Congress was preparing to vote on raising the country's debt limit, were delivered at the monthlong summer camp on Lake Seliger for pro-Kremlin groups such as Nashi and the Young Guard.
Putin said the United States was "living in debt and this, for one of the leading economies in the world, is very bad. This means that they don't live within their means and are shifting some of the burden of their own problems onto the entire global economy. To a certain extent, they are parasites on the global economy and their own monopoly on the dollar."

After months of acrimonious partisan debate and negotiations, the U.S. House of Representatives voted late on August 1 to raise the debt limit and to cut $2.4 billion in spending over 10 years. The Senate followed suit by approving the legislation on August 2, sending it to the president for approval.
Over the years, Putin has become known for his provocative and often anti-Western comments that are designed to appeal to the more nationalistic part of the Russian electorate -- and have buoyed his popularity at home.
Putin suggested earlier this year, for example, that the goal of the NATO military operation in Libya was to gain access to the energy-rich North African country's oil reserves.
The anti-Western tone, however, has been largely dormant since U.S. President Barack Obama launched his "reset" policy aimed at improving ties between Washington and Moscow.
Speaking To His Base
Masha Lipman, an analyst with the Moscow Carnegie Center, says she saw nothing new or extraordinary in the prime minister's remarks. "Putin has mastered the art of saying one thing to one set of people and another to a different set of people," she said.
Pro-Kremlin youth groups like Nashi and the Young Guard tend to be nationalistic and anti-Western.
At the meeting with Putin, for example, activists asked him to comment on long-discredited conspiracy theories such as whether the 1969 U.S. moon landing was staged and whether the September 11, 2001, attacks were carried out by the U.S. authorities.
Putin dismissed both of these theories, but used the opportunity to assail U.S. economic policy.
In response to his remarks, 50 activists from another group, Young Russia, said they planned to picket the U.S. Embassy in Moscow to protest against the debt ceiling being raised.
A Young Russia spokesperson told RFE/RL that the protests had been delayed for "technical reasons," but confirmed that the protest would eventually go ahead nonetheless.
Some observers say Putin is in open campaign mode ahead of elections to the State Duma in December. There is widespread speculation in Moscow that he's planning on returning to the Kremlin following the presidential election in March 2012.
Lipman, however, dismissed the idea that Putin was campaigning. "Campaigning, as with any term that bears on democratic process in Russia, should be viewed with great caution. All of these things do not mean the same things that they mean in democratic countries," she said.
"Why does he need to campaign if he is by far the most popular politician in the country? It's not that he is winning over a constituency there," she added. "It is electioneering to an extent, but I would say it not as a desire to win over a young audience, but rather a message to the elites saying, 'Here I am, active, up on things, popular and attracting audiences.'"