WATCH: RFE/RL spoke to Russian sports fans visiting Prague for a soccer game about the threat of further interracial violence.
MOSCOW -- With Muscovites still reeling from a series of violent ethnic clashes, police on December 15
detained more than 1,000 people
across the capital to prevent a replay of this past weekend's violence.
Thousands of ultranationalists and soccer hooligans, many of them wearing their club's scarves, screamed racist slogans and attacked non-Slavic bystanders on December 11. It was the worst outbreak of racially motivated rioting in the Russian capital since the 1991 Soviet collapse.
The rioters hurled stones and assaulted police officers with metal bars before storming a nearby subway station packed with passengers. More than 30 people were injured, some of them with stab wounds. The clashes followed the fatal shooting of an ethnic-Russian soccer fan, allegedly by a suspect from the North Caucasus.
But
despite reassurances from top Russian officials
, including President Dmitry Medvedev and Prime Minister Vladimir Putin, the riot raised fresh doubts about the government's ability to curb ethnic tensions that experts warn are spinning out of control.
It also deeply embarrassed the Kremlin just days after the Federation of International Football Associations (FIFA) named Russia to host the 2018 soccer World Cup and caused some to question whether the country can safely host such a large-scale sporting event. The Russian city of Sochi is also slated to host the 2014 Winter Olympics.
"The people organizing the World Cup preparations -- in other words, officials -- have a very poor understanding of the scene they are dealing with," says Galina Kozevnikova, an expert at Sova, a respected nongovernmental group monitoring hate crimes in Russia. "It's obvious that officials make deals with football fan organizations, but these organizations don't actually control their fans."
'Everything Under Control'
Russian authorities have sought to ease these concerns.
Medvedev posted a statement on Twitter following the violence in which he assured that "everything is under control." Speaking in televised comments, he vowed to track down and punish those who sparked the chaos on December 11.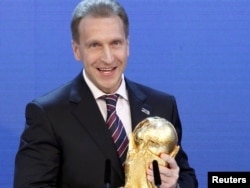 Russian Deputy Prime Minister Igor Shuvalov proudly holds a replica of the World Cup after the announcement in Zurich that Russia is going to be host nation in 2018.
"Actions aimed at inciting racial, ethnic, or religious hatred are particularly dangerous as they threaten the stability of the state," he said. "In dealing with such actions, the police can and must use all of its powers and means prescribed by the law."
In his annual televised question-and-answer session with the Russian people today, Putin vowed to stifle any future violence, saying that "Russia must suppress all manifestations of extremism."
The weekend rampage, which took place just a stone's throw from the Kremlin, began as an unsanctioned rally to protest the killing of Yegor Sviridov, a fan of Moscow's Spartak soccer team, recently killed in a fight with natives of the North Caucasus.
Protesters were also angry over the handling of his case by the police, who detained one suspect but promptly released the others.
Moscow police chief Vladimir Kolokoltsev on December 13 acknowledged that investigators had made a mistake and said three more suspects had since been arrested.
He also warned ultranationalists and soccer hooligans against further attacks, saying police exercised restraint this time but would not "turn a blind eye to such outrage in the future."

'Everything Can Be Solved'
Although the weekend riot was the largest of its kind involving soccer fans, sports lovers in Russia remain largely confident of their country's ability to hold a successful, safe World Cup in 2018.
Vladimir Geskin, the editor of the "Sports ekspress" daily, trusts authorities will eventually stamp out what he says is a violent minority of fans.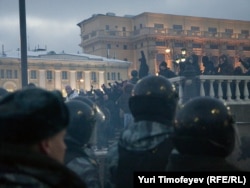 Police clashed with football fans in central Moscow on December 11 in the worst racially motivated rioting since the collapse of the Soviet Union.
"We have eight years to neutralize this group through all possible means: break their propaganda, send offenders to jail, ban them from stadiums," Geskin says. "Britain had terrible problems in the 1980s and the early 1990s, which they solved because they wanted to. I think there is the same desire here. Everything can be solved if we make it our goal."
Prior to hosting the 1996 European Football Championship, British authorities went to extraordinary lengths to root out hooliganism and ban troublemakers from attending matches.
The of International Federation of Association Football (FIFA), too, struck a reassuring tone.
"In working with FIFA, we are confident that the Russian authorities will also work closely with Interpol and other multinational agencies in the development of their 2018 FIFA World Cup security concept and that they will ensure adequate security plans will be in place," FIFA told RFE/RL by e-mail.
The Russian Football Union was equally optimistic.
Like the union's head Sergei Fursenko, who vowed soccer would always remain "outside politics," many sports lovers have sought to play down the involvement for football fans in this weekend's violence.
"The media are showing images of people with their arms stretched out," says Ivan Kuznetsov, a spokesman for the All-Russian Union of Fans. "But in fact this was not a Nazi salute. They were just gesturing to each other and the camera caught this moment. I saw it myself. Only several young men were chanting slogans; it was not a mass thing."
Nothing To Fear
Kuznetsov said racist attacks in Russia target chiefly migrant workers from the North Caucasus and Central Asia. Foreign players and fans, he said, will have nothing to fear during the 2018 World Cup.
The head of the Spartak soccer fan club, Amir Khuslyutdinov, went as far as denying that soccer fans took part in the latest violence.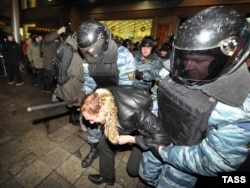 Police detain a suspected hooligan during round-ups in Moscow on December 15.
Rights groups, however, dismiss these claims, saying that Russia's sports fan community harbors close ties with neo-Nazi and other ultranationalist groups.
Russia is home to a number of unofficial soccer fan clubs that model themselves on British hooligans and call themselves "firms."
Sviridov, the slain Spartak supporter, is rumored to have belonged to one of Moscow's most aggressive groups, The Union.
The opposition has also accused pro-Kremlin youth organizations of hiring some of these fan groups, as well as ultranationalists to carry out attacks on Kremlin foes.

Police More Proactive
Critics say the government's reluctance to punish rioters is partly to blame for the radicalization of soccer fans.
"When the opposition rallies, activists, and opposition figures are arrested as soon as they step out of their homes," says Roman Shleinov, a journalist who covers youth issues for the "Vedomosti" newspaper. "Strangely, this doesn't happen with football fans."
The December 11 violence came just days after another rally during which some 1,000 soccer fans blocked a busy Moscow highway, clambered onto cars, and lit flares. Police responded slowly and did not detain anyone.
But the mass arrests on December 15 appear to be an indication that the police will be more proactive as Russia faces increased scrutiny as it prepares to host the 2014 Winter Olympics and the 2018 World Cup.
Prosecutors say they have opened more than 10 criminal cases against the December 11 rioters. The 66 people arrested during the violence, however, have all been released.
RFE/RL's Russian Service contributed to this report